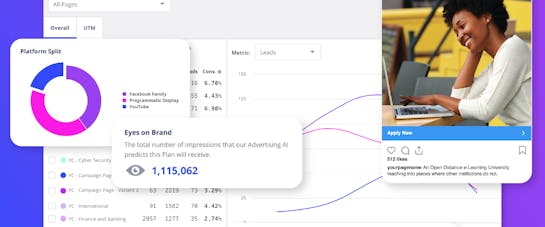 4 things every student marketer needs to consider when thinking about landing page optimisation
As results day is going ahead, now is such a pivotal time in the year for institutions to attract students. So it's important to make every message count. This means that landing pages, forms and emails need to be clear, concise and effective. 
We already know that you can increase your advertising performance by 60% through capturing first-party data for use in your advertising tactics, and having 10-15 landing pages can increase your leads by 55% but did you know you can turbocharge your advertising performance by 300% when you capture audience data and segment it for targeted campaigns?
Here's a look at the quick wins we can all do to improve our landing page conversion rate and capture that all-important first-party data. 
First things first, it's important to acknowledge that conversion rate optimisation (CRO) is numeric, while user experience (UX) is humanised. So while they influence one another, they must be tackled entirely differently. CRO is based on statistics, and while these are essential to show the effectiveness and efficiency of a particular page or campaign, UX cannot be driven by these same stats. Instead, the effectiveness of UX is determined by how easy or simple a page is to use and what that page makes a visitor feel. Which in turn, will then affect your CRO. 
So in order to get the most from both of those elements, here are four easy wins: 
1. Keep the form above the fold
You've got seconds to grab someone's attention, so if you're wanting people to register interest or sign up, make sure they don't need to scroll down reels of your page and you may lose them otherwise. Take this top tip into consideration and your form conversion rate is bound to climb.
2. Reduce distractions
Likewise, don't go OTT. Visitors will quickly become overwhelmed if there's far too much going on on the page. Carefully consider brand colours, use of symmetry, breathing space around the different segments and the why behind every paragraph of text. If in doubt, keep it simple.
3. Use second-part forms
Talking of overwhelming your page visitors, don't pile 15 different questions onto the first-part of your form. You run the risk of users leaving without giving you any of their information. Decide what information is most important to you, keep your first-part form dedicated to what's essential, and leave any other questions that would be 'nice to have' to the second-part form. Meaning that if users drop off at that point, you've still collected the first-part data. (Top tip: You can nurture those who dropped off at the second-part later on using Akero)
4. Give users clear next steps
Your page visitors aren't mind readers. If you want them to sign up now, read your latest article or book a virtual tour, tell them. Explicitly. By keeping the form above the fold, and reducing distractions, this will not only improve user experience, but consequently improve your chances of conversions and getting your users over the line with form completions. 
Now these four tips are a good starting point to optimise your landing pages. But if you'd like to understand the psychology behind these suggestions, or take a look at our latest insights into student behaviours to inform exactly what your pages should be, watch our webinar now on-demand and read our Marketer's Guide to Landing Pages for more information.