8 tips to keep prospective students engaged with your college before, during and after an Open Day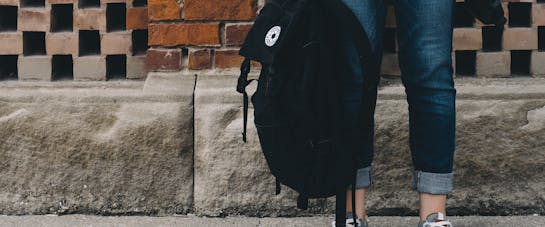 Your plans are in full swing for welcoming those fresh-faced prospects to your college's Open Days; you're planning dates, staffing the events, pulling together assets and thinking up fun activities to captivate your prospect's attention. But what about keeping them engaged in the lead up to, and the aftermath of the Open Day?
Here are our top tips to encourage registrations and attendance, and keep prospective students' interest piqued once the event dust has settled.
Before the big day…
Track and optimise your Open Day promotion
Use Akero Click Tracker to track all your digital campaigns in one place; from paid activity to organic social, blogs and email. Being able to see, in one place, which type of activity is driving the most Open Day registrations will allow you to tweak your strategy as you go and maximise sign ups.
Tailor landing page content to each student
Make each student feel personally welcome from the get go with landing page content tailored specifically to their interests. With Akero's Page Manager feature, you can create a set of landing page variants to display based on the source content. Match the images or messaging to that of the content that engaged them to click through in the first place, to keep their interest heightened and encourage them to register to attend.
Encourage form submissions by keeping it concise
Let's face it; nobody is enticed to fill in long, multiple-field forms. Short forms are more likely to convert, so keep it simple and only ask for information that's completely relevant at that stage of the process. You can also use tricks to create the illusion of shorter forms; such as drop down lists instead of radio buttons, conditional form fields that only display when necessary, and second page forms for additional information.
Nurture registrants to ensure they attend
Use the data you do capture from the sign-up form to keep registrants keen to attend your Open Day. Akero workflows can be set up to automatically send email communications based on actions (such as submitting a form or clicking on an email) or information gathered from the form (such as course area of interest). A workflow can include time delays, so you could trigger a thank you email upon registering, a course specific email three days later, and a reminder email the day before the Open Day.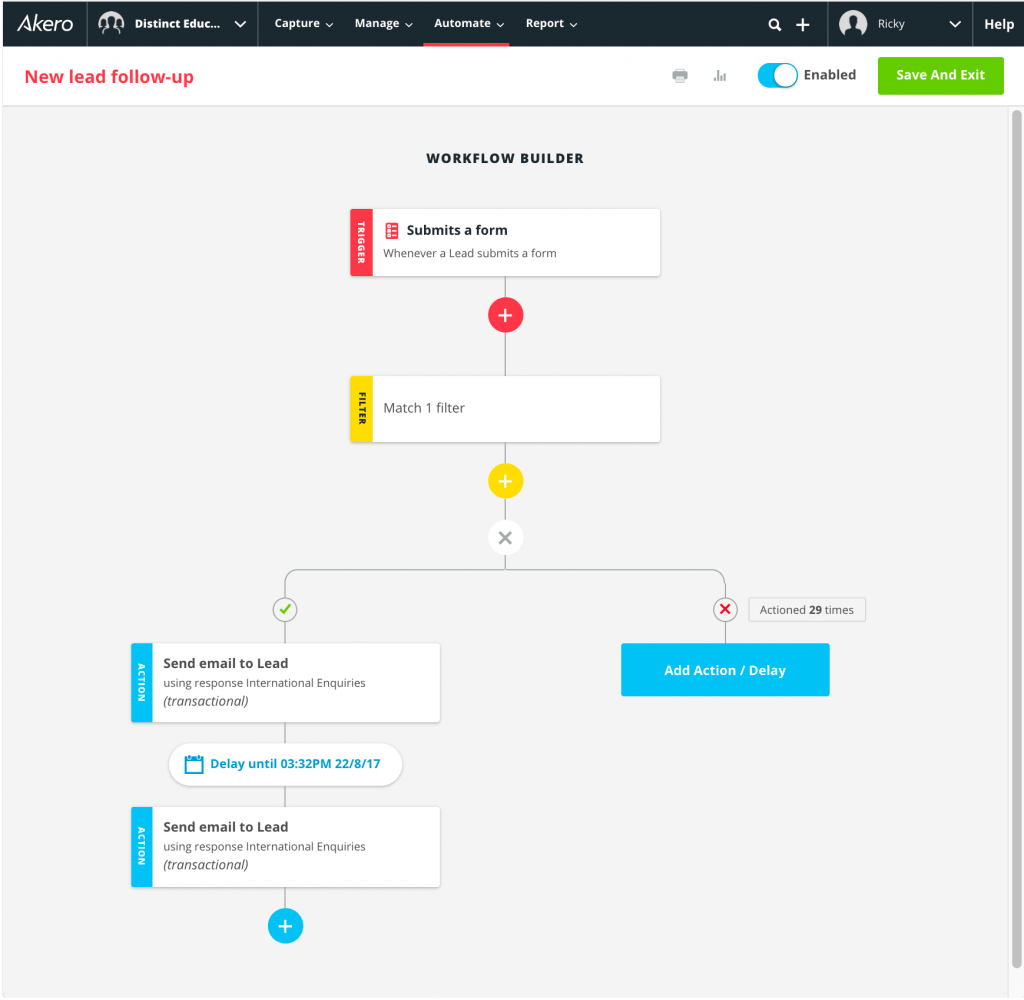 *Remember*
GDPR is nearly upon us, so it's more vital than ever to gain clear consent before emailing anyone. Under the new regulations, you'll need to obtain positive opt-in (pre-checked boxes or opt-out boxes don't count!). There has been a question mark under the age at which a child is able to provide their own consent under GDPR. GDPR allows implementing states to select an age (between 13 and 16) at which a child can consent to the processing of their personal data, and at the time of writing the age proposed in the UK is 13.
At the event…
From inspiring seminars to Snapchat filters; we bet you've got your on-the-day engagement tactics nailed (but if you need more inspiration – check this out). However, there's one important step you can't afford to miss to ensure you can maximise on post Open Day conversion strategies….
We're talking about Event Capture
Our virtual guest lists allow users to check visitors in paperlessly, and easily view data on who did and did not attend.
After the Open Day…
Nurture your leads some more
You can easily plug Event Capture data into a workflow, to send follow up emails based on whether they actually made it to the Open Day or not. Then, keep the communication going based on their ongoing engagement with your emails, pushing the prospective students further down the recruitment funnel towards enrolment.
Track each student's engagement with your college
Because Akero captures both the digital and offline touchpoints a student has had with your college, you'll gain a holistic view of each and every individual's level of engagement with you. From the ads they clicked on, to the web pages they have viewed, emails opened, forms submitted, events attended and return visits to your website – you can track their unique journey from first click to enrolment.
Complete visibility of your application pipeline
Use this information to keep an eye on which students you should be progressing through to the next stage of the recruitment funnel, and which ones are slipping away. Our application pipeline feature allows you to have complete visibility of your recruitment funnel.