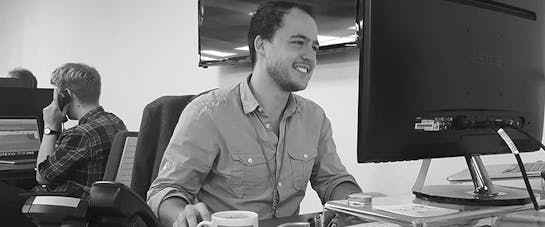 A Day in the Life of: Alex Calder, Client Services Manager
When a marketer chooses Akero as their marketing measurement platform and lead generation software, we don't just send them on their way armed with login details and instructions.
It takes a particular type of person to support our creative, dynamic and varied user-community, and it comes at no surprise to us that our client satisfaction is always above 94%.
We caught up with Alex Calder, Client Services Manager, to hear how he works alongside clients to help them close more business, enrol more students, and improve internal processes.
8.45 am: The first task on my agenda today is to report on a lead nurture journey I recently built for a UK college using the advanced automation tools within Akero. When reporting on the performance of lead nurture campaigns we use pipelines to track which stage each lead has reached within the sales funnel and compare that with what marketing messages are working best, and which ones we need to tweak.
9 am: Akero is designed to fit into broader product ecosystems and integrates with over 500 different apps, from CRM platforms and ESP's, to groundbreaking advertising technology like Facebook Lead Ads and productivity tools like Trello. I've got a call this morning with a client to scope out a custom integration with one of their in-house programs. We'll talk through the type of integration required and how the data can be transferred across.
10 am: Doug, our Business Development Manager has been discussing a new lead nurture and conversion strategy with one of our fostering and adoption clients. It's now my job to liaise with a member of the Community team to identify pain points for the client and plan content around these in order to create more relevant journeys. 
11 am: I have a training session booked with a private sector client who has recently purchased an Akero package. A lot of my role is centred around speaking to our clients to find out how I can make their everyday tasks easier whilst generating more business and client satisfaction for them – so I look forward to these training sessions.
This particular client has just sent me their ideal process for their sales pipeline. I will then use this information to wireframe the user journey, demonstrate how they can customise their pipelines and build workflows that alert the sales team to their hottest leads.
12.20 pm: A new education marketer has signed up for an Akero package! When this happens, I will arrange a call to talk them through the campaign builder, lead management, automation and reporting features to ensure that they can start seeing results as soon as possible. 
2 pm: Straight after lunch I check into our support portal where all client query emails are stored – they can then be prioritised, replied to, or passed to our development team. Some questions can be answered very quickly, with others, I will call the customer and set up a screen share so that I can provide more in-depth advice.
3 pm: It's Akero Weekly Clinic time! Every Wednesday, existing users can drop into a weekly half-hour session via a webinar to get their burning Akero questions answered. I provide tips and tricks on how to get the most out of our marketing measurement platform. It's great to get our Akero users together and learn about individual users.
5 pm: Working closely with our Akero users means that I get the fun task of researching and mapping our upcoming Akero Community portal! This portal will be a hub where users can share best practice, sign up for training webinars, read help documents and get tips on how to maximise their marketing efforts. 
5.30 pm: I'm off! No day is the same, as our customers come from a variety of different sectors, which makes my job even more interesting. Learning about how each company, institution, agency or organisation approaches their marketing strategy is fascinating, I learn something new every day!