Advertising awareness: Are you in tune with your students? 
To build brand awareness, you need to be where your students are. But which platforms should you be looking at, and which should you avoid?
We conducted research into students' media habits to find out where they are spending their time online and where you should be focusing your advertising spend.
Firstly, do students trust adverts?
31% of students spend at least an hour a day on websites, but a third of students do not deem website banner ads to be trustworthy. Similarly, only 14% of students think that search engines show credible adverts. So, how can you gain trust with your students?
Our friends at Net Natives conducted some research and found that seven in 10 students are more likely to buy from brands that represent them. So, by including diversity into your ads, you can build trust and engagement, make the most of your digital ad space and drive conversions with content that your students resonate with.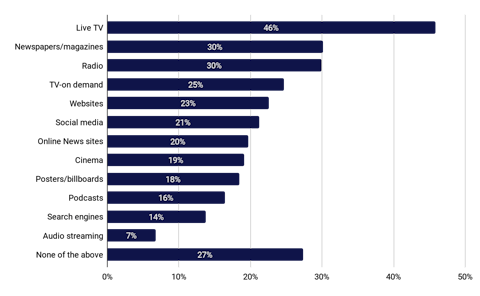 Is audio-only a smart strategy?
22% of students spend at least an hour on podcasts per day and 20% on audio streaming sites. The lockdown entertainment boom has shown that placing ad spend on audio-only ads is smart. However, seven in 10 students opt for the paid version of Spotify, which means that only three in 10 students are receiving adverts through the platform. Think about how you can optimise your ads for those students who aren't subscribed to Spotify and make your adverts stand out against the other ads they hear between songs. Research your students' habits with audio streaming sites to determine how to automate your ads and determine the perfect ad length to capture your students' attention. 
Schedule your adverts at the right times  
Not only do you need to plan your ads on the right platforms, but also at the right times. 17% of students spend over six hours a day on social media platforms with peak times being between 6pm and 9pm. Automate your ads and let Akero do the hard work for you, so you can spend more time on student research and strategic ad planning. 
Don't forget about traditional advertising
With students spending the majority of their time on social media, it's easy to forget the power of the traditional. However, with 25% of students always using an ad blocker, your digital adverts won't be seen on their laptops. Factor in traditional forms of media that don't rely on devices, such as cinema and live TV. 
Although you won't be able to calculate true ROI and engagement from traditional ads with first party data, nor attribute applications back to the first click like you can with Akero, you'll still tap into the market and promote positive brand awareness. In fact, students are more likely to deem your institution as trustworthy; 46% of students trust adverts they see on live TV and 19% trust those in the cinema, increasing your conversion rates. 
Remember, research is key to determining your advertising strategy, so you need to be aware of your students' behaviours. Then, let Akero do the hard work for you - reduce the time spent on resource planning and allocate more time for campaign set up and optimisation. Speak to us today for a demonstration.