Advertising in the Time of COVID-19
With stringent social distancing measures being implemented pretty much everywhere, media consumption among students has gone almost entirely online. The higher education sector, in particular, is seeing exponential growth in engagement with social media posts and online comms. 
Right now, your audience is online, eager to learn, and has more drive to follow their ambitions than ever before. 
Some immediate questions to ask yourself: 
Is any marketing live right now inappropriate?
Are we making any opportunistic decisions that may look bad later on?
Are we listening to students explicitly, monitoring data trends and making sure our comms aren't tone deaf?
Have we turned off OOH and pivoted to in-home media?
And some immediate actions you should probably be taking right now:
Organise your marketing. Establish what it is that students need right now (clue: they're eager to learn, they want to feel connected, and they are concerned for their wellbeing). Then identify how your institution could address these needs and the value you add by highlighting the benefits. Once you have this, it's time to update all your marketing, including your advertising.

Make sure your message is clear, responsive and sincere. Uncertain times call for a consistent message. For universities, being able to adapt your message with sensitivity and to add value is no mean feat, especially with the vast amount of information about the pandemic being circulated at breakneck speed. Natives' expert Cem Topcam has given some fantastic advice on this right here.
With that in mind, you'll be pivoting all your marketing away from OOH, into digital promotion and in-house media. But remember, when this passes, and it will pass, restrictions will be lifted and OOH will be huge, so be strategic and keep this in mind when thinking long term.  
We caught up with our advertising experts to get their input on which key channels you should be investing in: 
Paid search
Due to the disruption to the usual recruitment cycles, we've seen an influx of searches relating to higher education recently. People are unsure, and they're heading to platforms like Google and Bing to find answers. 
There has been a large influx in search volumes with terms such as 'A-Level Results' and 'University' at the moment.
Utilised correctly, you'll be able to position your institution perfectly for potential students during intent-driven moments. This is an active audience, and having an active audience search strategy live in these times is a must. 
Recommendation: Launch an immediate Google Search campaign that bids on keywords and questions caused by uncertainty. Seek to answer these questions by directing potential students through to informative content on your website. 
Recommendation: Bid on brand terms to accommodate your current affinity audiences. 
Social 
Since the government announced self-isolation as a requirement, there's been a significant increase in social media users. 
In December, using our own platform Edurank, we saw that organic social activity from higher education institutions had an average of 53 engagements per post. In the last 2 weeks, this has increased by 222%!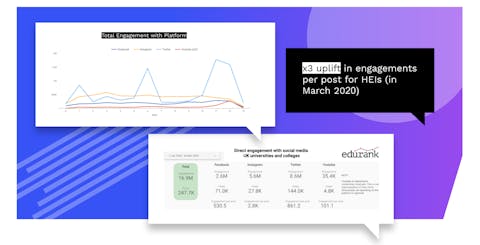 A study by eMarketer supports these findings: "The spread of coronavirus is likely to boost digital media consumption across the board as people spend more time at home and communicate in person less". 
Recommendation: Run activity across the major social media platforms to take advantage of all this extra usage from your target audiences. Timing is crucial and messaging is critical, so stay informed and stay responsive.
Recommendation: Use razor-sharp targeting with your audience data (e.g. with affinity audiences and Open Day leads) to encourage them to accept their offer to join your institution. 
Recommendation: Take advantage of newer platforms like TikTok, which is really having a moment as the world self-isolates. It provides plenty of opportunities to join the conversation, but only do so with the right content...
Recommendation: Localised targeting will be key, as students/parents look to reduce travel times and increase security. London (and other populous cities across the UK) are unlikely to be desired destinations.
Digital platforms 
Just because we can't leave the house, doesn't mean direct media is entirely off the table. Digital platforms have plenty of inventory, and daily audience numbers are on the rise across the board. 
For example, on 16 March The Guardian recorded viewing figures of 27.6 million unique users, with over 88 million page views in a single day, the most in their history. One of the top stories, which had 4million views in less than 24 hours, was an education article - illustrating that students are still engaged with the education sector and want to know more. Could your institution's messaging be the remedy? 
That's a lot of eyes on your ads.
Recommendation: Explore specialist publishers and Video-On-Demand, such as TANMedia, The Guardian, All4, ITVHub etc. These trusted, premium providers have all seen a huge spike in activity over the last few weeks, which is forecasted to increase over the next few weeks/months. 
Check out the positive results we received from advertising on Video on Demand, pre-corona. And VoD platforms recorded unprecedented impressions in the last 14 days (ITV saw a +32% increase on the year-to-date average for 16-34-year-old viewing). With this in mind, campaigns should definitely consider VoD tactics.
This is an unprecedented recruitment cycle and now is the time to adapt your advertising strategy. Investment in long-term brand advertising is going to be key, being in-market with your advertising early is vital (as long as you have the right messaging and targeting) as well as honest, respectful and trustworthy comms. 
If you need help with any (or all) of the above then get in touch.