The Akero Roadmap update: October 2020
It's easy to get caught up, running at 100 miles per hour and always looking to the next big thing. But at Akero, we wanted to keep you updated with how we're getting on; what's new, what's going to make your life that much easier, and how we can continue supporting you with our technology. 
So here are the latest features for Akero, October 2020.
Say hello to the New Media Planning Tool
Over the last 6 months at Akero, we have been working on a new, advanced media planning tool to support you and your teams with your advertising campaigns. The ultimate goal is to provide you with one place where you can access everything. Yes, we mean everything. The New Media Planning Tool helps to form a seamless advertising process, from brief creation, sharing and reviewing the media plan, to asset management for your campaign, go-live, monitoring your campaign through our dashboards, all the way to the end of campaign analysis.
So what are the benefits of this media planning tool?
Advertising in Akero
This media plan will integrate with other Advertising features in Akero. In the system, you will be able to submit your advertising brief, receive a media plan, submit your assets and report on your campaign's performance in our Advertising dashboards all in one place. 
Access all information for your campaign in one place
Keep track of, and return to, all information that you have previously submitted for your campaign, and other campaigns you have previously run via Akero. All stored in one easy to access location. No more issues with missing or lost links, sharing Google documents with lacking permissions or Google accounts!
Direct review process
All communications when reviewing the media plan can be done directly in Akero, much like how Expert Insights operate now. Any changes from this feedback can be updated and easily kept track of in the system. You will have complete visibility of all comments left, responses made and changes implemented. 
Schedule visibility
Clear visibility of your tactic start and end dates in the plan, along with any asset deadlines that need to be collected prior to your tactics going live. These very distinct deadlines will give you clarity on what is needed from you, and when.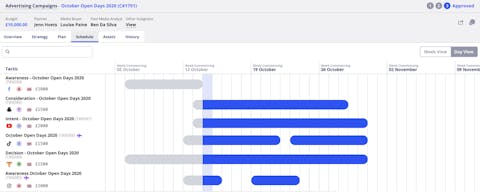 Asset Collection in the Media Plan
Assets can be collected within the media plan, meaning you can actually see what each asset is being used for when reviewing and providing your content. This gives much better clarity where you might be using one asset for multiple tactics.
Welcome to the improved Asset Management Platform
In our most recent release, we have made some improvements to the asset management process for your campaigns. In particular:
Assets directly linked to your media plan
The Asset Management Platform has now moved into the new media planning tool. This means that when submitting/reviewing your assets, you can see the context of these in relation to your plan and the tactics that the assets are associated with.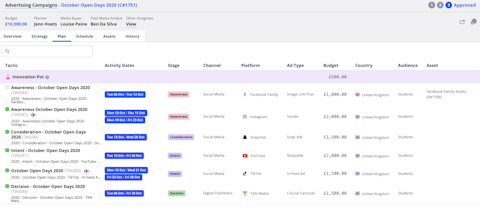 Clearer and smarter scheduling with clarity on your deadlines
Within the Assets table, you will be able to clearly see which actions are for you and your team, or if the action lies with your agency. You will still see the overarching asset deadline, but you will also see actions and deadlines in between now and that time to help you better plan your Asset Management.
Our number one goal is to make your lives more seamless and frictionless with whatever you need to do, and we hope these Akero updates can do just that. As ever, if you have any questions or want to discuss what would make your marketing and advertising lives easier, get in touch.