Why aligning your technology is critical to your recruitment success
We know to really understand your student audience, it's all about data. But all too often this important data becomes siloed and fragmented into different platforms, departments and teams, each using multiple systems that specialise in specific areas to track their designated area of the funnel. Think marketing with recruitment, admissions with enrolment and so forth. With the student journey becoming increasingly complex (and nonlinear), that filters through each team and system, and makes it hard to track your advertising campaigns and marketing comms. 
With MailChimp for email marketing, Eventbrite to host your event sales, Calendly to book 1:1 meetings with prospective students, and Unibuddy to facilitate peer-to-peer chats, there's a lot of data to pull together. If none of these platforms talk to one another, how can you ever track true ROI? 
This is why aligning your tech stack is critical to your recruitment efforts. 
Our experts have done a deep-dive in our Aligning Technology webinar (watch on-demand here). But for now, let's look into what this means… 
Build the infrastructure to create a single customer view 
You may think aligning your tech stack is just another buzz phrase from the MarTech world - but in actual fact, it's pivotal to almost everything you report on and build from. In order to understand your CPA, you need to create a single customer view: What are the touchpoints that students are connecting with? At each stage, which landing pages, forms and information are they getting directed to? And to do that, all your platforms need to align.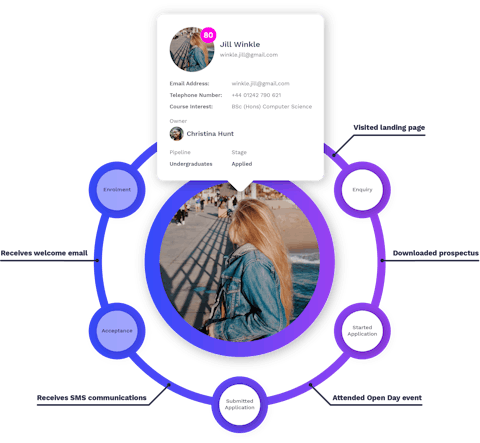 Understanding each individual prospect and student should be baked into the DNA of every marketing and admissions department. But it can prove challenging if you don't have the right systems in place. From first touchpoint to enrolment is often a complicated, nonlinear journey for prospective students, and understanding how your funnel works will let you know where to intervene. Aligning your technology systems allows you to track, understand and attribute ROI, customise and personalise each student's experience at every touchpoint. 
With a specialist technology like Akero, you can view all the relevant data in one place, making it easy to create a personalised journey to enrolment, tailored for every student. How? Because Akero integrates seamlessly with whatever CRM you're already using, so that frictionless funnel is even more achievable. As well as the likes of Hubspot, Unibuddy and Calendly. 
By understanding your students' journey, you'll then be able to identify where the bottlenecks or drop-offs exist, which are costing you valuable time, money and resources. Instead, you will be able to invest in critical nurturing strategies which will increase the overall ROI of your tactics and ultimately lower that CPA even further. 
Once aligned, identify and optimise 
Now you've got that single-customer view and you know what your pain points are. Next, look at how to reduce your CPA by optimising your tech stack to resolve these problems.
Plugging your existing CRM into specialist software like Akero will boost your marketing capabilities, improving the effectiveness of your campaigns, enhancing your advertising performance and, in turn, lowering your CPA. 
Problems with form abandonment? Akero allows you to build multi-part forms, capturing that all-important data before the drop-out stage, and gives you useful information on when, where and why students are giving up. 
Unsure where to advertise to reach your recruitment goals? Akero recommends the best possible media selection according to your brief and budget, with guaranteed predicted performance outcomes from an award-winning AI, with all your leads going straight back into your own CRM. Which, you guessed it, helps you to reduce (and track) your CPA. 
We followed these exact recommendations when working with one US university looking to increase their overall student numbers year-on-year. 
Before working with us, they did not have the advertising infrastructure to capture data and personalise the student journey. 
As a result, they had been spending hundreds of thousands of dollars with no ability to track ROI against each campaign channel, or understand how to improve enrolment performance. Now, they are able to track advertising spend through to Cost Per Enrollment, generating an ROI of 660% from each enrolment.
We've only scratched the surface on why aligning your technology is so important. If this has inspired you to understand and take control of tracking and reducing your CPA, get in touch with our experts today.