Bringing teams together: Using Akero to create a seamless work environment between Marketing and Admissions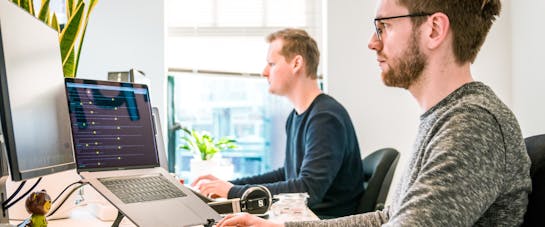 Everyone dreams of that perfect work environment; projects tracked centrally and teams working together seamlessly in a collaborative environment where everyone is aware of their shared goals and responsibilities. 
And imagine if teams, collaborative clients, agency and media partnerships could work together in a centralized environment, even when completely remote?
Wouldn't it be nice not to rely on chaotic email chains and attachments?
Or how about avoiding bouncing from project queue to project queue, while trying to track your progress using many different spreadsheets, or analytics dashboards. Sounds like a dream, doesn't it.
Well, what if we told you there was a very simple way to make this a reality? 
With our specialist technology platform, Akero
First, we introduce one of Akero's many features, its Asset Management Platform. Bringing project teams together to make working more transparent. It features clear management of team documents and assets, all in one place for project teams and (with suitable permissions), clients. As well as complete visibility on advertising performance, attributed through the entire enrollment journey, sparking new kinds of conversation between marketing and admissions teams.
Imagine leaving behind the need for shared drives, Google Docs and attachments too large to email? Instead, you could rely on direct communication through the platform, with a built-in 'chat' function to allow any one of your colleagues to pick up the project and see all the correspondence in one place. 
"We've never been better positioned to effectively reach prospective students than now with the Akero platform. This sophisticated technology allows our team to track and analyze data to make informed decisions in our marketing and communication strategies and identify trends in higher ed recruitment."
- Nina Kult, Director of Marketing & Communications, Logan University
Say hello to centralized data
Plugging your existing CRM (such as Slate, which we are one of their Platinum Preferred Partners), as well as all your other tech platforms, into specialist software like Akero, is another way to create a transparent and cohesive work environment. 
Aligning your tech into one place, and then providing user permissions for multiple teams, really is an effective way to get teams working together successfully. Admissions teams most likely have access to the CRM, but marketing teams also need access to support outbound engagement. 
By integrating your existing CRM and tech platforms with Akero, you are centralizing your data. Often important data is fragmented across different platforms and departments, which can lead to unnecessary blind spots. If teams had clear oversight over the full student journey, it would create a frictionless working environment. 
With remote working on the rise, it is now more important than ever to create a cohesive online working environment for teams and clients alike. If you would like to set up a simple and centralized space for your employees and clients, then please get in touch and we would be happy to help you achieve this. 
Or, if you're raring to go, check out Akero for yourself. Book a demo here.