The media channels you need to consider when it comes to budgeting for your Open Day engagement tactics
Recently, our Lead Solutions Consultant Julian Pareja joined our friends at Net Natives for their webinar 'Leveraging your data and insight to retain and build student loyalty', which you can watch on-demand here. We discussed the opportunities that are available for institutions to hit their ever-growing enrolment targets, and now it's time to look at how you can integrate these recommendations into your tech stack. 
Taking data from Student Pulse, we're able to see which platforms students are engaging with most, useful for informing your strategy and planning your budget. You can access the real-time data by signing up to the Student Pulse dashboards here. Not convinced? Take a look at what stood out in September.
September's Student Pulse revealed that institutions need to be planning campaigns on multiple platforms, not just the social media giants. In fact, almost 15% of students use Reddit daily and there are many other platforms being overlooked by student marketers. The good news? You can leverage the more obscure social media channels to boost engagement from your prospective students. Discord, Pinterest, Twitch and Quora are all channels where institutions with tight budgets can be seen and here's why.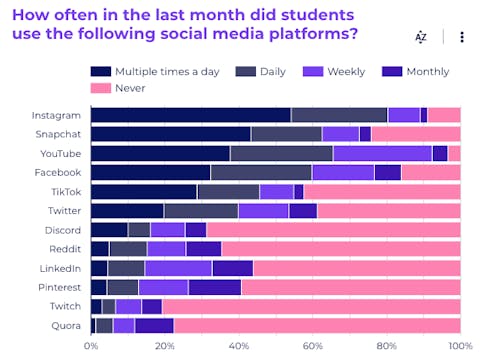 There's no denying that the most popular platforms, Instagram, TikTok and YouTube, remain top of the chart, but with so much competition on these channels, it can be difficult to reach the students. Instead, cut through the advertising noise and boost your brand perception by targeting those lesser-tapped channels like Reddit and Discord (popular with 30% of the student community).
But what do these students want to see? 
As we've mentioned before, personalisation is key when it comes to connecting with the students. Their experience with your institution needs to be engaging and tailored to their circumstances. By understanding students' reasons for using these platforms, such as Discord being popular among gamers, you can leverage that insight to build your advertising campaigns and comms.
To advertise your Open Day, why not start by showing courses related to students' interests; computer science for the gamers, design for the Pinteresters, and film or video production for the Twitchers. Of course, this is the first step in their personalised experience with your institution, so keep it consistent throughout. An omnichannel approach will help.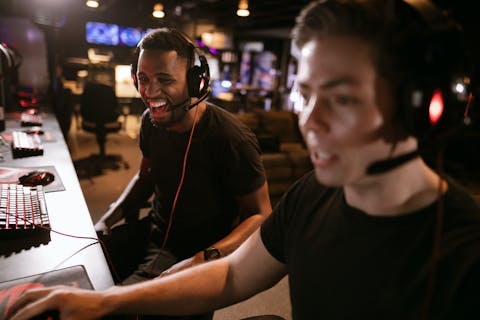 So how can you integrate this into your Open Day tactics?
We can't speak about budgeting without mentioning saving money. Use zero-based budgeting to scrutinise every expense. This will allow you to challenge legacy expenditure, question why you've done the things you did, and ask if activities and expenses really need to be replicated. For example, if you budgeted to advertise on Discord when you don't offer courses in Computer Science or hyper-specific degrees like Game Design, you might pivot your budget to different platforms to attract the right audience for your offerings. Zero-based budgeting will help you identify these areas of optimisation. 
2. Adopt an omnichannel approach
No one likes being bombarded with ads, and most can cut them out with ad blockers. The key to avoiding negative brand awareness? Tactically spacing out your campaigns across platforms and learning from your audience about what they want to see. If you're unsure, just ask them. The key is to keep your brand messaging uniform across platforms, and always tailored to the students' circumstances.
3. Consider their parents
If you don't know, the next wave of students' key influencers - their parents - aren't Boomers or Gen X. They're Xennials. And they're not afraid to attend a hybrid Open Day or chat via Instagram. Set up nurture funnels on the most popular social media platforms among the Xennial generation, TikTok and Instagram, so you can combine your social media strategy this recruitment period.
The student demographic is constantly changing, so it's crucial that your CRM can pivot. With Akero, you can track the student journey throughout the entire funnel; from that first advertising message to enrolment. By having funnel visibility for each social channel you can identify bottlenecks at each stage and optimise your strategy on the go. 
5. Implement progressive profiling
Once students have clicked through to your landing page, how can you avoid form abandonment? The answer is progressive profiling. What is it? A way of gathering first-party data over time to build up a profile of your prospects. Not only will this help you to achieve greater conversion rates, but it will also allow you to connect with the students and move them through the pipeline quicker while avoiding time-wasting.
If you would like to speak to our experts about your Open Day tactics and nurture strategy, get in contact.