Carry Your Leads in your Pocket: Akero goes Mobile!
We have some big news to share – the Akero marketing measurement platform is now fully responsive on mobile!
Since the launch of our brand new system back in July 2016, our development team have been working around the clock to provide marketers with a platform that is completely adapted to their busy work schedules and the unique challenges working remotely can bring.
A mobile-friendly Akero platform allows marketers to have complete flexibility, control and management over their marketing in real time. Why spend valuable time liaising with various team members for lead data when it can be accessed quickly and easily from your portable device?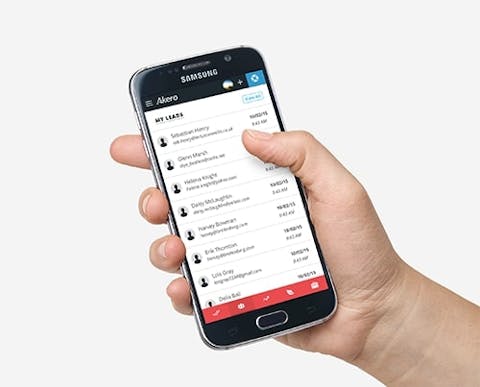 How will Akero mobile benefit your marketing activity?
How many times have you arrived at the office at 8.30am to find a hot lead sitting in your inbox that really would have benefited from immediate follow-up? With a mobile-friendly Akero platform, marketers will have instant access to their lead data. This is especially beneficial to those who are running international campaigns that span various time zones and need to monitor their lead data at any given time!
Never be in the dark on campaign performance
When your role requires a lot of time on the road, it can be frustrating not to have quick access to your campaigns' performance stats. By using Akero mobile, marketers will be able to see how each campaign is resonating with their audience in real time.
Make quick tweaks to your landing pages
With a mobile-friendly Akero platform, marketers can make quick tweaks to their campaigns anytime, anywhere, and with complete ease. No longer will you have to endure the process of having to scroll frustratingly around the screen to reach individual elements of your marketing platform!
Left your laptop or iPad at home?
We've all been there at some point, left with the sinking feeling of not having access to our important marketing and lead data. Whether you're in a meeting, on the train, or have been cornered by management in the hallway on the status of a particular lead. Marketers can be rest-assured that they will always be in the know.
Even more control over your marketing
"Gone are the days when marketers only work at their desktops 9-5pm. Many of our clients work on campaigns that run in multiple time zones and need to check progress and make changes to campaigns on their commute to and from work," comments Don Skinner, Digital Director at Akero Labs.
He continued: "This, combined with the fact that smartphones and tablets are now the primary devices for many modern marketers has meant the mobile experience of our software has been a top priority for us, and we are delighted to offer this added convenience for our users."
Please note: If you are using Akero on Safari, press the box with the arrow at the bottom of the browser and then press [+] to add Akero to your home screen. By making the browser windowless, it'll be like using an application!
Akero will work as a fully responsive platform on all the latest models on both Android and Apple devices.