The Clearing landing pages that made the Akero podium this year

After the brilliant article by Education Marketer last month '111 examples of university Clearing landing pages', we wanted to share a few of our favourites this year and a little bit about why they're so great.
Before we start, let's chat about how pivotal Clearing was this year. A rocky grading system meant a whopping 41% of students were prepared to enter Clearing this year. And with a 22% increase in direct-to-Clearing university placements this year, the true picture even exceeded many peoples heady forecasts.
The first landing page that caught our attention for several reasons, from both visual and technological aspects, was the University of Chester. 
Opting for a collapsible landing page means students can access the desired information without scrolling through pages of text is perfect for the often frantic Clearing scenario.
To support this, we ran Chester's collapsable section through eye-tracking software to reveal how effective the method is.
As you can see, the attention is primarily grasped by the heading of each section, giving a clear and easy way to find the correct information section for the user.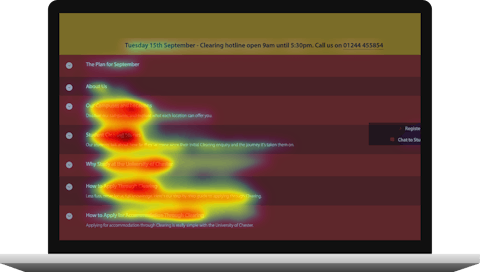 And as we know when it comes to Clearing, data is king and with some institutions receiving between 10,000-20,000 calls in one day, it's vital that the performance of these are tracked. 
Chester tracked how many people were calling their hotline and which enquiry source they were coming from. They did all of this by simply implementing click tracking software on their landing page, giving them the insight both on the day to see their call performance, and also a log of data to look back on to inform their marketing for next year.
Design-wise, University of Cumbria have absolutely smashed it. The contrast between the green, black, purple and pink gives you a very impactful and shocking (in a good way) first impression that takes every ounce of your attention. 
But with their style comes functionality. Still remembering the fundamentals of utilisation such as keeping CTAs and key information as high up the page as possible and even making the hotline number pop out from the page giving clear next steps on how to apply. 
This is shown with the attention heat map here. As you can see, despite the array of bold colours across the page, the attention is immediately drawn to the two main subjects on the page. 
They've also included some short, snappy videos that are a great alternative to reams of text filling the page. In the rush of Clearing, students don't always have time to read through pages of text, so using video is key to keeping your visitors' attention.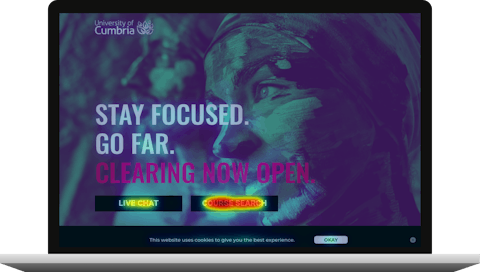 Keeping in mind that around 50 seconds is deemed a desirable time-on-page metric, you really need to capture that user's attention and supply information in quick, easily digestible sections.
In a year full of uncertainty, Hull have ensured they've covered all the bases when it comes to information on the upcoming year. With sections covering how to secure a place via Clearing, information on living in Hull, virtual campus tours and more, they've included a lot of useful detail but have ordered it by level of importance to a Clearing student. This also means the page doesn't feel overwhelming, due to it's easy to navigate UI and information hierarchy. 
University of Hull have also tapped into an innate part of our psychology when organising the information on the page, 'Z Pattern' rule of design. It's claimed that we read pages with limited text cascading in a Z type pattern. With following this format, Hull have created a page that makes for easy reading and easy to find information quickly.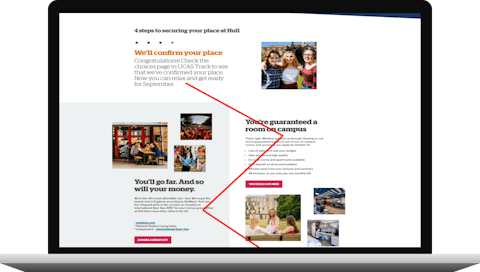 Who was king of the hill on mobile?
We see an average of 30% of mobile users visiting Akero created landing pages. Students are browsing more and more using this device, even for more decisive actions such as Clearing. So it's important to ensure your landing pages are optimised for mobile. 
University of Hertfordshire have created a great mobile friendly landing page by avoiding one key downfall that many institutions fall victim to. The simple act of placing all important information above the fold on mobile is crucial to ensure you capture the user's attention in the first three seconds. Engagement dramatically drops thereafter.
Shown on the image here, Hertfordshire have included their tagline, a CTA button, Clearing hotline and course search function all without scrolling down the page, perfect!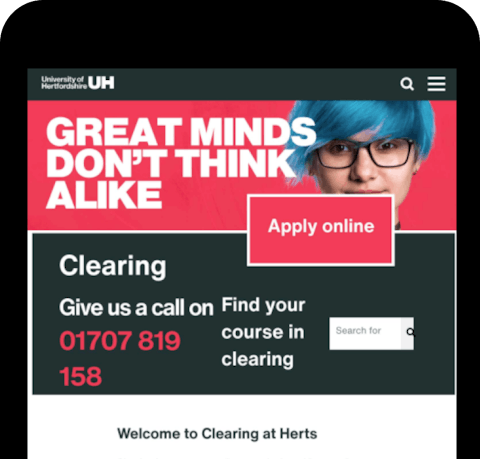 A whopping 91% of millennials will look for some form of social proofing before they choose a university to attend. This means it's vital to open an authentic channel conversation on your landing page.
London Metropolitan implemented Unibuddy to ensure that its users had the ability to ask a question to current students at the university, giving them authentic insight on topics that universities may not think about covering.
Ensuring they capture the mobile market, London Met ensured their Unibuddy chat function remained active on mobile, offering a familiar WhatsApp style messaging channel that resonates with their target audience.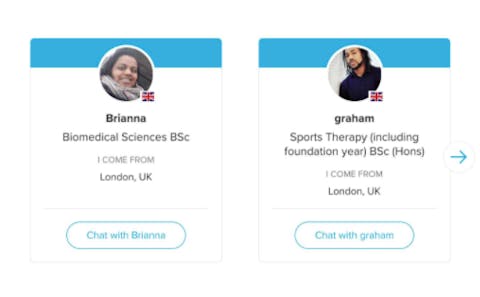 How has advertising shaped up over clearing? 
On a day of uncertainty in the education sector, the advertising landscape certainly reflected this with terms such as 'How long does Clearing last' increasing by +140% and 'When does Clearing close' by +110%. Highlight the sentiment that Clearing was no longer a one-day race. And with an increase of 34% of students holding offers beyond Results Day, it was the universities that adapted quickly and sustainably that weathered the storm the best. Keeping advertisements live and continually optimising your landing pages are necessary tasks, and there is still work to be done. 
Insights from Student Hut show that one in 10 students are already considering transferring to a different university or dropping out altogether, so ensure that your landing pages are up to scratch to catch any lost, unplaced students in the coming months.
As you can see, we love a good landing page here at Akero. In fact, we love them so much we created our Marketer's Guide To Landing Pages, so if you're inspired to create an amazing landing page yourself, maybe you'll be on this list come next Clearing… And if you need any extra support, get in touch with our experts today.