What strategic planners can takeaway from the Conversion Masterclass, episode two
In the second instalment of our Conversion Masterclass series, we looked at what needs to be on the radar of the strategic planners among us; we're looking at you Heads of Marketing and Marketing Managers. Our experts took the attendees through segmentation, targeting and positioning, what advertising (and tracking) at each stage of the funnel looks like, the importance of brand, common chokepoints and so much more.
But if you missed it, don't worry. Here are some of the key takeaways:
1. Don't overlook the power of research
Without accurate and up-to-date research, you'll find it almost impossible to segment your students into categories that you can target. Basing your strategy on last year's data will result in outdated methods of attracting your students and this will be reflected in low conversion rates.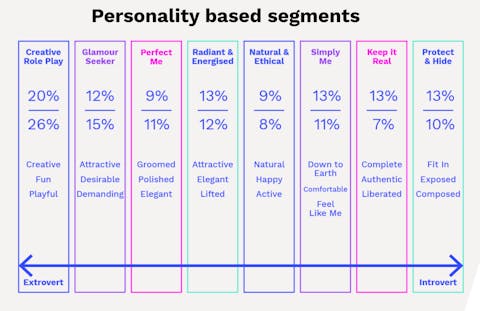 2. Don't limit your lens
Segmenting your students based on demographics and psychographics is key to hyper-relevant adverts that can be tracked using specialist software such as Akero. Akero harnesses personality profiling to help inform targeting, platform selection and messaging to improve performance within its AI platform, ensuring that the most relevant and captivating adverts are put in front of the right kind of people. To discover more about how Akero uses the OCEAN model to factor in those important psychographics, you can head over to this article here. 
3. Stay connected
Don't lose connection - keep a record of each student throughout their entire journey towards enrolment (using tools like Akero's EA). Pull your students closer to your brand through omnichannel strategies, which will not only allow you to align your branding and advertising to boost brand awareness, but also join up your enquiry management system and admissions and enrolment systems to seamlessly track your students and pinpoint where drop off is occurring.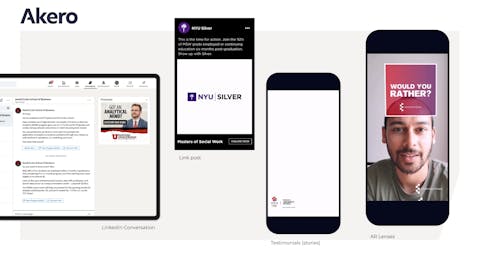 4. Get smart with your data
Focus on platforms and media that allow for retargeting (social, search and programmatic) then use the remarketing audiences that you've built up during the previous stages of enquiry and application. Next, engage your creative and copy team to tailor specific messages to encourage that final action: enrolment.
5. Diagnose and audit your brand
To build your brand, you need to audit the micro conversions that your students experience along the funnel. Monitor the key stages in their journey and plan direct response campaigns to hit recruitment targets and application deadlines. To break this down further - for HEIs, we recommend using a 70/30 model; 70% of activity driven by sales activation/short-termism and 30% for long-term brand building.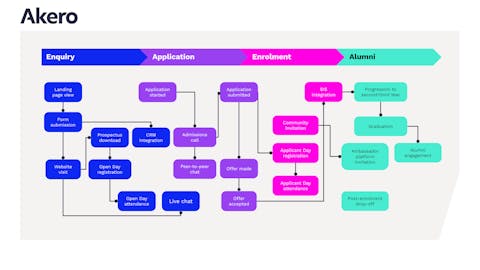 Conversion is about getting your students from application to enrolment in the simplest, smartest way possible. Akero's AI and performance guarantees will help you to boost enrolments, but it's important to monitor and audit your campaigns with metrics to calculate your true ROI. To avoid your touchpoints dropping off, zoom in on the micro conversions and optimise your strategy to nurture them through to an enrolment. 
Our final instalment of the Conversion Masterclass is fast approaching, and will be covering the on-the-ground tactics you need to maximise your campaigns. Save your seat for 27 May here.