The quick wins for hosting postgraduate recruitment events
It's been a very different year for student recruitment, and as we move into the postgrad recruitment phase we can look to the lessons learned earlier this year during undergraduate recruitment and Clearing.
So how can you get the most out of your budget and have full visibility of the student journey to increase your ROI for your 2021 postgraduate recruitment? 
There are some key differences between postgraduate and undergraduate degree courses, from the duration and increased workload, to the students' motivations. 
So who should you be targeting and where you will find your prospective students?
First things first, MBA or Master's?
While the two may seem similar, they afford very different student personas. If you are offering MBA programmes in particular, you should take into consideration the experience and motivations of your potential audience. For example, are you targeting professionals with managerial experience? Possibly motivated in taking that next step up into a leadership role in their management career? Some job roles to target here could be Directors, Managers and business owners who are established in their careers on platforms such as LinkedIn. 
For Master's students, on the other hand, you need to target people who are thinking about, or might be interested in, studying PG courses. This could include undergraduates in their final year at your university, from neighbouring universities or even those who are currently employed. As this audience is so broad, all social platforms and digital publishers are worth considering.  And while choosing  between platforms and publishers can be tough and overwhelming, through Akero you can submit a brief and our AI will come back with recommendations based on our experience running postgraduate campaigns with guaranteed results. 
Now you've got the students interested, how do you get them to actually engage? 
A great way to get prospective students interested in your institution, even in the current climate, is through virtual events. But how do you get them to come? 
There are a variety of methods you can use; emailing and calling are usually the more proactive, personal approaches. But just as it's important to have a method of contacting these students , you need to understand where they are at every stage of the process.
In Akero's pipeline feature you can name each point in the funnel (first email sent, first call, if they attended a virtual event, if they completed an application, etc.) so you can identify drop-off points and understand how and when your leads are converting. 
And virtual events can have some very real benefits.  You can reach a wider audience, they are cost effective, they are very measurable (successful or not) and you can easily collect first-party data. Virtually, pun intended, every attendee action can be tracked and analysed.
Here's how Akero can help you with some quick wins:
1. Capture the leads - with a dedicated landing page and form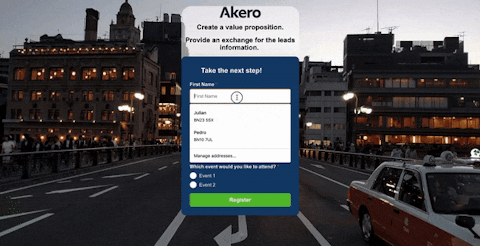 The quick win: Did you know that DOB or mobile number cause the highest bottleneck percentage in the first part of any form? Leave them out (at least until the second part). 
2. Nurture the leads - with a considered pre-event email and SMS comms
Top tip? Your email should be short and concise, with a limited number of CTAs to avoid confusion. Create a journey for your nurture communications and showcase your resources. If an email needs to be longer than usual, make it so that it can be read in both five seconds AND a minute. Highlight keywords, use bullet points, be creative. 
3. Stay in touch with the leads - during the event
Don't forget to integrate your comms and touchpoints throughout the day so that attendees don't miss out on 'headline' sessions, such as VIP alumni workshops or talks from the VC. Reminders via SMS of what's coming up will keep them engaged throughout the event and maximise the event's impact.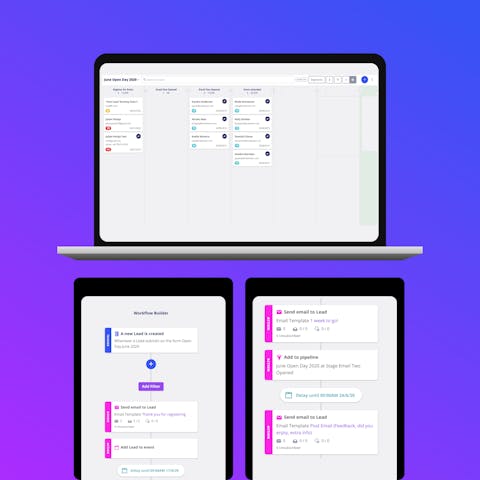 4. Follow up with the leads - time for post-event comms and lead scoring
From initial touchpoint in your advertising to the strategy of nurturing the leads down the pipeline, the aim is to drive applications. Understanding the true ROI and understanding conversions is fundamental in being able to achieve any kind of year-on-year growth.
Through Akero you are able to integrate your application portals and begin to visualise every aspect of nurturing a lead down the funnel to converting into tangible results. Through Akero's reporting and analysis features you are able to learn from what you've done this year and attribute it back to see how you can improve it in the next. 
If you would like to find out more about how Akero can help you with your upcoming postgraduate campaigns and strategy, get in touch.