Preference Centres, CAPTCHA, ReCAPTCHA & Two Factor Authentication
Check out the latest Akero feature updates for March '18:
Preference Centre benefits
Akero's Preference Centre centralises on the management of email preferences for nurture campaigns and Akero Mailer. Adding the Preference Centre block to a Drag & Drop Landing Page allows a user to specify the following:
The option to show an unsubscribe option for the nurture email campaign
The option to select one or more Akero Mailer lists
The option to show an unsubscribe from all lists
Preferences Centres are such great practice, not least because by creating one you get the chance to save someone who is looking to unsubscribe by presenting them with all the great content you produce and giving them the chance to only receive the types of comms they're interested in. Conversely, you might even engage them again – by showing them all the great stuff you do which they might not know about!
Our parent company, Natives Group recently built this preference centre using Akero: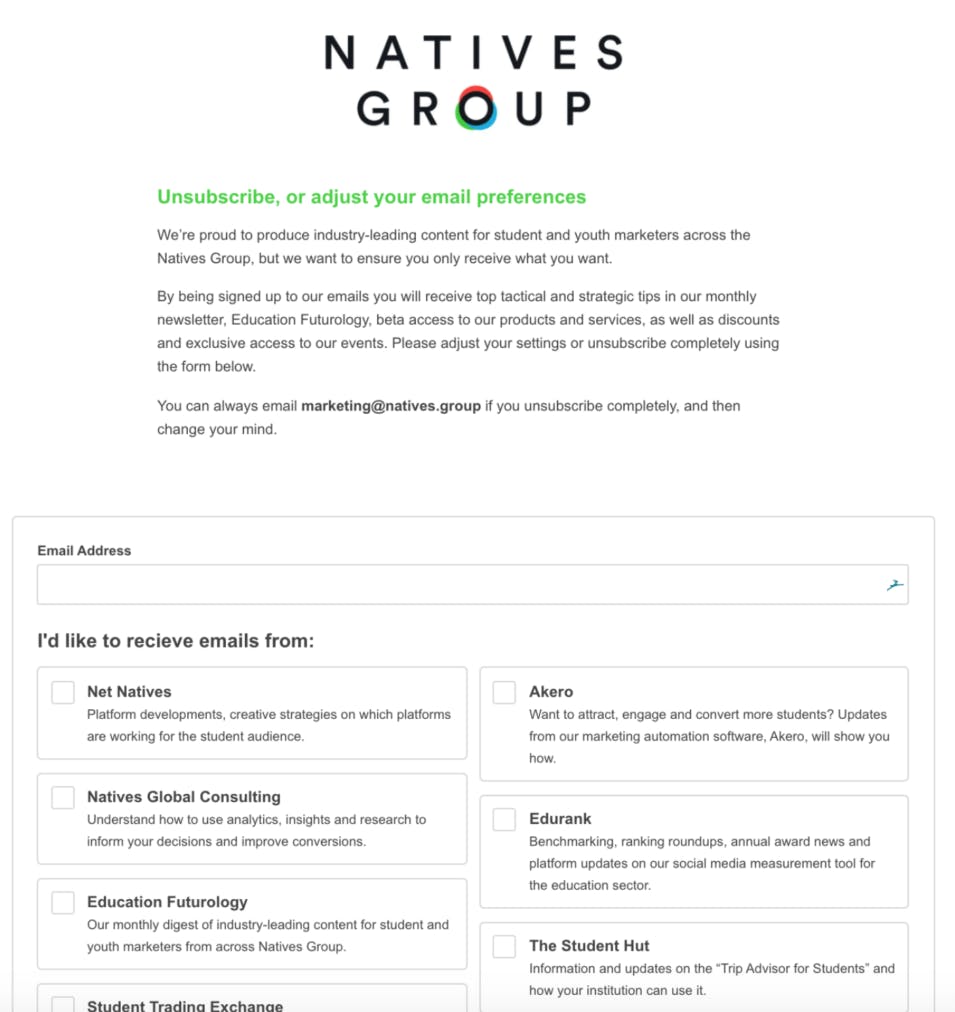 Other things to consider for a Preference Centre are:
Communicating how often subscribers can expect to hear from you
Subscribers being able to opt in and out particular types of emails e.g men's and women's clothing
Location – if you have multiple locations where they hold events for example, then a subscriber might only be interested in hearing about the ones nearest to them
Stop the bots with CAPTCHA & reCAPTCHA on forms
Want to ensure it's a person and not a bot filling in your forms? CAPTCHA and Google reCAPTCHA inputs are used in forms to tell genuine people and bots apart, the good news is these are now available to add to your forms in Akero.
If a reCAPTCHA form field is added to a form, then a lead will be presented with a series of images to attempt to recognise until reCAPTCHA is convinced they are human. This is especially important for HTML forms which are more susceptible to bots/spam than our iframe forms.

reCAPTCHA is the more robust and recommended solution, but we have also added standard Captcha as a simpler and quicker solution. If CAPTCHA is added to a form, then a lead will be required to read four randomly presented characters, and rewrite them in a form field (as shown below).

Two Factor Authentication
What to add an extra layer of security to your Akero account? By enabling Two Factor Authentication, you will be required to enter a verification code that is sent to your mobile device when logging into Akero, giving your business more piece of mind.