Make More-Informed Marketing Decisions with our Spring Product Updates
We've put even more power into the hands of marketing and sales teams with our latest update to provide businesses with added flexibility and data to make smarter marketing decisions to create, manage and map powerful stories across a multitude of touchpoints that resonate with leads.
Want to know more? Take a look at our Spring updates to see how they benefit marketers and businesses.
Work faster, not harder with new contact ownership features.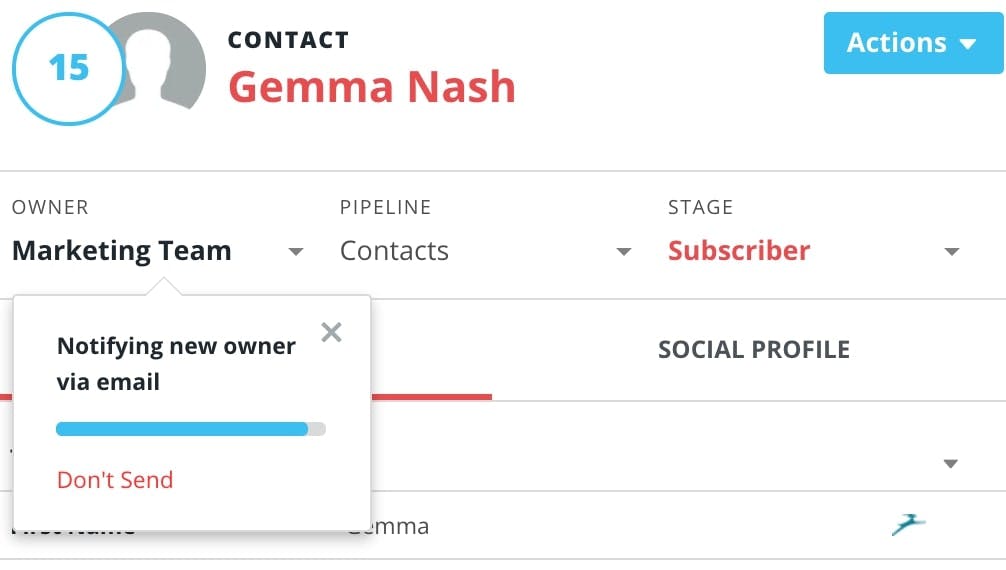 Create a smoother lead management process and improve communication in your team with our new contact ownership feature. Users now have the ability to change the ownership of a contact with a single click, so that you can work faster and more efficiently.
What's more, Akero will automatically send the new lead owner an email notifying them, providing you with the reassurance that leads are never forgotten. We've also included the ability to cancel the email if the user makes a mistake, just in case!
Gain greater clarity over the lead journey with new pipeline features
Improve your team's efficiency with new Akero reports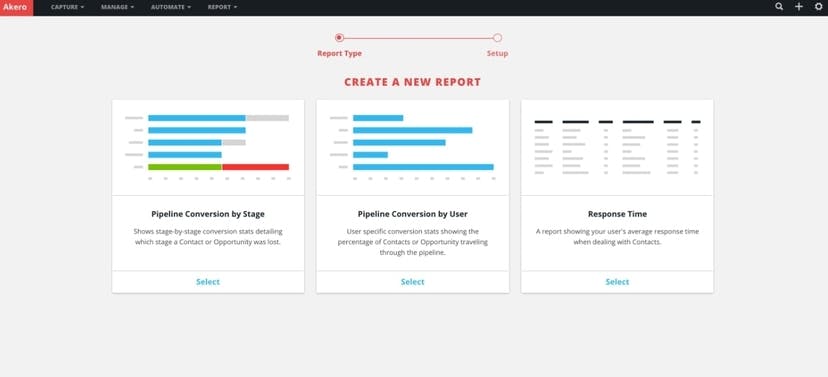 Teams can now access a number of new system reports that are automatically generated within Akero to show how your marketing activity and processes are performing against the following metrics:
Report one: Average response time
The average response time report displays the average time sales teams took to contact leads at each stage of the conversion funnel. The report helps sales teams benchmark exactly what 'good' looks like by setting KPIs to improve the time it takes to engage with leads.
Report two: Pipeline conversion by stage
This performance report shows how many contacts and opportunities have moved from one stage to the next within any given time frame. So that teams can understand where they need to make improvements, to keep leads engaged at every stage of the funnel, the report also displays at which stage contacts were won or lost.
Report three: Pipeline conversion by user
Our 'pipeline conversion by user' report is perfect for team leaders who want to track overall progress of leads that have been assigned to specific team members, to ensure their team is in line with KPI's and wider company goals.
Visualise the lead journey with new workflow flowcharts
Confused by automated lead nurture? Our new workflow builder within Akero lets users build lead nurture campaigns in the form of flowcharts, so they can visualise the entire lead customer journey from start to finish.
All existing workflows that have previously been built in Akero will be automatically transformed into a visual workflow which is fully-adaptable and editable to the users, cutting significant time for the user to have to re-build pre-existing nurture campaigns.
Even more personalisation with HTML forms
Want to provide highly personalised experiences for your leads with Akero forms but want the added flexibility and creativity of HTML branding? Users now have the option to use iframe and HTML coding to use within their website.
With HTML forms, marketers will be free to link Akero forms to Gmail adverts without having to liaise with their development team. So, users can still enjoy the benefits of data tracking against each lead within Akero, whilst incorporating their own creative style.