Moving from physical to digital: How to build a connection with prospective students, when open days are no longer an option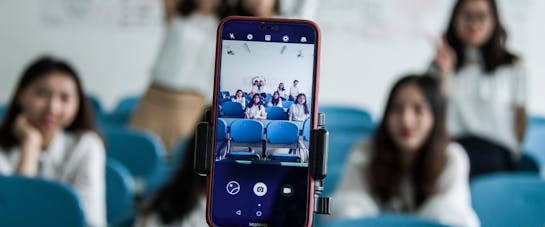 The coronavirus outbreak is changing an awful lot about the education landscape, but one thing it won't change is that students want information about your institution. And as COVID-19 sweeps the globe, disrupting student mobility, exams, events and recruitment cycles everywhere, one major component of almost every institution's activity, open days, are starting to feel the pain. 
Open days are about creating an opportunity to build an emotive connection between applicants, parents, lecturers and an institution. It provides an opportunity for you to link all your lovely digital and out-of-home campaigns with real physical experiences, enabling parents and potential applicants to start building their own connection with your institution and get a feel for the on-campus vibe. 
So what can you do when your event has been cancelled, or all your experience and data tells you to point your campaigns towards funnelling your prospects into a physical open day? We caught up with our student specialist experts to get their ideas.
The importance of digital promotion 
The importance of your digital marketing will continue to increase in 2020. Prospects will need to be nurtured by digital touchpoints throughout the recruitment cycle and nurtured on key platforms. Being ever-present to questions and responsive to every engagement on your platforms, while turbocharging your campaigns with targeted and cost-effective lead gen tactics, will be more important than ever before. 
Budgets are going to be tight, and resources are going to be stretched, so you're going to need to work smart.   
At the time of writing, we have no idea how long the pandemic will last, beyond the most realistic forecasts that the entire recruitment cycle is going to be completely disrupted. So yes, you should move all your physical events and activities into digital promotions and, if you can, increase your budgets as much as possible.
Making a human connection digitally.
Don't let a cancelled event prevent you from building a human connection between your academics, institution and prospective students. More and more institutions are building direct connections between students, staff and, even alumni, through their marketing. One of the most important elements a prospective student will want from an open day is to make a human connection with someone that has been there, done that and makes them feel safe and excited to study. Give them that connection digitally, and don't let a cancelled open day stop you. 
Keep running events, take them online
If you're faced with cancelling an event, then take it online. Institutions that adapt their strategy to digital promotion can run virtual open days, online campus tours and run presentations as webinars and broadcasts. You'll need to make sure that you are being responsive to every engagement, both at the virtual event and on every platform that is promoting it, to make the most of every opportunity.

Virtual events have the same opportunities that your physical ones have, but you'll need to make sure your marketing and event tech is all connected. By using a specialist tech stack like Akero, you can; understand which advert on which platform sent the student to your event and build your marketing lists through smart forms and opt-ins. From there you can nurture your students from the event through to enrolment using smart automation and an adapted student journey map that highlights every single opportunity to improve conversions. And if you're smart with your forms, you'll know even more about your prospective students. Use the data you've captured to understand your own student audience and build highly personalised journeys that are delivered through clever automation to increase conversions and inspire emotions towards your brand.

And you could even connect like-minded students with one another, building tribes before they've even started - all without even a single physical visit to your institution.
Keep the conversation going
You're going to need your own micro-influencer strategy to do the work that your admissions, academics and student ambassadors on the ground would have done at events. Look at the opportunities and relationships you already have within your alumni. Students and their parents will feel even more connected to your alumni, in a time of crisis.

Be brave and hand the reins of your comms channels over to your students and let them do the convincing that your university is the place to be. Whether it's mid-social distancing sit-down videos from students for a YouTube series on why they picked your university or campus vlogs depending on your circumstance, you can still create open day content that harnesses excitement and emotion. Make sure you make your institution is available on WhatsApp, as this is a key communication platform for Gen Z, and a fantastic space for you and your prospective students to connect on. And if you needed any persuasion about the kind of magic that can happen when you let your audience make your content for you, then look no further for inspiration than Glastonbury last year…
Know what students want
In a recent poll by Student Hut on how students are feeling about COVID-19 and their education, half indicated they want their university or college to offer online alternatives in place of in-person classes by September 2020. As well as one in four prospective 2020 undergraduate students are considering an online course provider instead of a traditional course with in-person delivery. Driven by the unique conditions that COVID-19 has created and the challenges facing the education system by this coronavirus outbreak, the future might just have become the present. Online providers, or those institutions that can be agile enough to offer an online alternative, might be the ones who find themselves in the best position possible by the end of the 2020 recruitment cycle. 
If you are an online provider or your course programme has an online element of delivery (whether planned or reactive to the situation), then make sure this is included in all your messaging. A new form of course delivery creates a new product, which warrants an awareness campaign.
Embrace innovation
If you're reading this, then I already know something about you. You're a creative marketer, who cares about doing a great job in the face of adversity. The COVID-19 outbreak is a challenge like no other, and a unique problem will require unique thinking. Embrace innovation and be brave. You'll find the solution by thinking and acting creatively, and we can't wait to see what you'll come up with.
The situation is rapidly evolving, so if you need any help or want to speak to our experts, get in touch.
How we're trying to help
COVID-19 presents a challenge for all of us on an unprecedented level, that will mean we need to all pull together. Resources will be stretched, and we want to help. We are committed to doing whatever it takes to support our clients, and the education sector, through these difficult times. Whether that is through creating new solutions such as using drag-and-drop landing page builders to build and easily update crisis comms hubs, through to offering our tech solutions to clients for free during the peak times in which institutions are affected.
Here is how Akero is supporting you and our people: https://akerolabs.com/blog/how-akero-is-supporting-during-covid-19
And advice and top tips for moving into an online delivery model and online course promotion: https://akerolabs.com/blog/online-education-covid
Also, you can join our Head of Technology Services and Client Success Manager tomorrow (Wednesday 18 March) at 2 pm, when they will be hosting a fireside chat on new developments that will impact the sector and how the Akero tech stack can support you during the Covid-19 pandemic, including a Q and A. Join us here.
Students' opinions on the matter are pretty important, right? We agree. That's why we asked 500 students what they thought about COVID-19. One in four is considering an online provider for September 2020. Want to know more? Of course you do: check out the initial findings here. 
If you're wondering what this may mean for you if one of the regions you recruit from is affected, or what this might mean for UK HEI's in Clearing, then check out here.