Online course promotion 101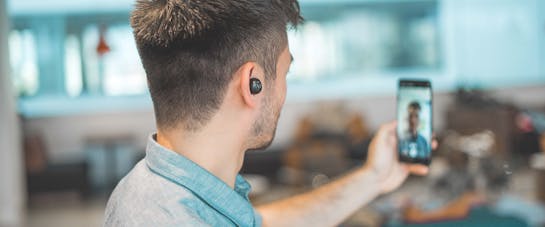 It goes without saying that the world of education has had to evolve drastically in the first six months of 2020.
To some, the transition to online classes and lectures has merely sped up the inevitable. But, regardless of what may have always happened, this crisis has required a lot of adjustment from institutions, particularly those that did not previously have reliable online course provision.
And online infrastructure isn't the only issue. While the planning and practicalities of switching to online is a logistical minefield in itself, getting your courses out there to the masses is a whole other ball game.
This article will share some useful and practical top tips for ensuring your online courses are cutting through and getting students' attention. 
What are students searching for?
Google searches related to 'online learning' grew by over 70% globally between the last week of March and the first week of April.

Trends data for 'online course' searches in the last 90 days - note the steep increase in March
This indicates that people, including your prospective students, are on the lookout for online courses. And if you aren't advertising in these spaces, you can bet your competitors are. 
On a more granular level, looking at the Google Trends data for 'online courses' and the associated 'breakout searches' - queries that are quite popular now having not been looked up often in the past - is a good way of pinpointing the niche terms that have become popular due to the crisis.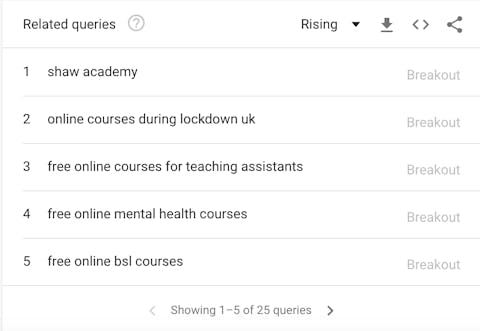 You can also adapt your content and promotional messaging to focus on the virus itself: this is uncharted territory and your audience will be seeking answers. For example, Imperial College London is offering a course on the science of coronavirus, which is now the most enrolled class launched in 2020 on Coursera.
So what are the top tips for promoting online courses? 
1. Think about expanding your target audience 
Previously you may have broken down your target audience in a few simple categories (for a more in-depth understanding of different personas during Clearing, you can check out our National Clearing Survey). 
And while the Traditional Clearing Student (as defined by the NCS) is still as important than ever, and will still need reassurances that your particular online course is right for them, it is more important than ever to nurture a relationship with other Clearing students, such as the Direct Applicants. It is likely that the number of non-Traditional applicants will rise over the next few years, as a result of this lockdown's impact on the education sector. 
This pandemic, sadly, has left hundreds of thousands unemployed, with more currently questioning their employment status. Through furlough and redundancies, people have had more time to search for the degrees they've always wanted to do but never had the time to consider. Doing the course online might even be better for them. 
People are keen to learn, and now may be the perfect opportunity to get your brand in front of them whilst they're on the cusp of applying. 
2. Talk about broadening your horizons… that means platforms too
While Google Searches and YouTube watch time have risen through the roof during the pandemic, it's important we don't forget about the social powerhouses. But our top tip? Think beyond the usual suspects like Facebook and Instagram.
Get your message in front of your prospective students by advertising on TikTok, Quora and other new players. Need some more convincing for when you're forging your media plan? Catch up with our Akero experts and TikTok's strategists with our exclusive advertising and creative masterclass here.
The scale at which TikTok is keeping individuals around the world company during lockdown is no joke; in the week after the UK lockdown was announced, there was a 34% surge in downloads.
So, how can you get your online course in front of these extra eyeballs? 
3. Make sure your ads are optimised… for every device (and no, we don't just mean mobile)
We know we've said this before, but online behaviour is shifting and you must be aware of these changes. Desktop browsing is back (for now at least...), with Facebook, YouTube and Google all seeing significantly decreased app usage alongside increasing desktop impressions. 
Have you visualised what your ads will look like less truncated and with even more on-screen real estate to play with yet? Because that's how your audience may be viewing your ads during this lockdown. 
4. Consider your messaging and language
Your marketing and brand messaging may not be appropriate in the current climate (see this unfortunate example) and it's probably time for a rethink. Check out these dos and don'ts for when you're planning your ad strategy, or better yet, catch up with our experts to find out how best to communicate successfully during this pandemic.
 5. Prepare for a cookie-less world
And as you take your activity and presence online, make sure you're ready for when Google plans to nix cookies, you can get fully up to speed here. Remember! Third-party cookies are not a crucial component in building your brand online. In the short-term, you will need to look at your current ad tech stack and start to think about how you can begin to plan, activate and measure your advertising in a world where third-party cookies no longer exist. And that's where Akero comes in... 
5. Let Akero Advertising do the heavy lifting 
If you don't know where to start, you're not alone. But using specialist education marketing software such as Akero Advertising can help. Its cutting-edge AI scans billions of data points across more than two million websites, comparing it with data collected from over 10 years of student campaigns and overlaying it with third-party student audience data from Oracle, Experian and our own student publisher site, Student Hut. The Akero AI instantly creates personalised student advertising plans, recommending the best possible media selection for your desired outcome. Akero sets guaranteed performance metrics and cost for your campaign, so you know in advance exactly what your spend, and results, will be. Pretty clever stuff. 
And there you go, your whistle-stop 101 of what you should be doing to promote your online courses. If you would like to get in touch with one of our experts to talk about your institution's needs specifically, get in touch today.