How COVID-19 has impacted our online presence across platforms
The way people spend their time online has changed drastically following the coronavirus outbreak, with social media usage through the roof as users seek to remain connected during the lockdown period. Our experts delved into how these changes are impacting the performance we see advertising.
Live streaming is more popular than ever, with Instagram Live interactions up 146% in recent weeks.
Advertisers are adapting to our new way of life. Since social distancing measures were adopted, there has been a 27% decrease in ads featuring images of social interactions on Facebook.
Snapchat usage is up 50% MoM, while swipe-up rates have risen by 19% for the same period.
Facebook usage among 18-34-year-olds has increased dramatically over the last fortnight; incidentally, this age group also appears to be the most affected by the lockdown measures.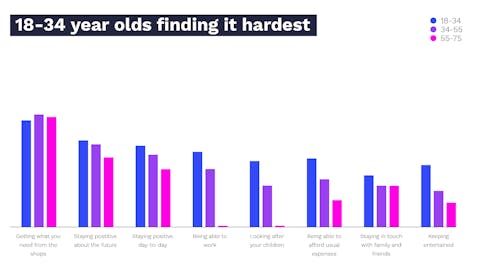 Facebook 
The substantial increase in Facebook activity has triggered a surplus of available impressions. Studying our own data, we have seen CPMs falling across the board as the size of our audience pool increases and other agencies begin to pull activity. Now is the time to maintain activity and get your brand in front of students while their time spent online skyrockets.
Falling CPMs and rising impressions have also improved the cost-effectiveness of our website traffic, as we have seen a steady decline in our average cost-per-click since lockdown measures were introduced. Interestingly, CTR also appears to be on the rise across our partners' accounts, as users appear more inclined to interact with our ads during the lockdown period.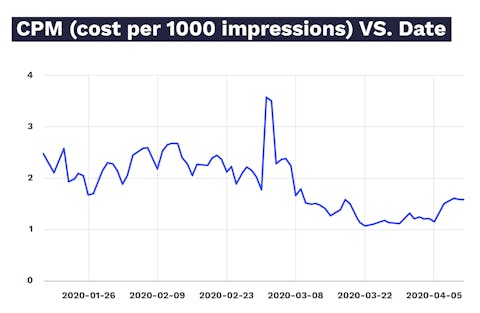 YouTube
We are seeing similar trends on YouTube, with rising impressions and falling CPMs in the weeks following the lockdown. In the UK, YouTube watch time increased by a factor of 6.5 in February, with this figure having likely risen even further during the lockdown. Below, we have measured the lockdown's impact on impressions and CPM:
With YouTube impressions on the rise, our sector is well-positioned to reap the benefits. A 2019 survey indicated that 1 in 4 prospective students was influenced to return to education via YouTube, highlighting the platform's persuasive potential. So if you haven't already, get publishing those study tuber vlogs, virtual open day content and Q&A sessions with faculties - students are ready and watching.


Google Search
On Google Search, we've observed some more complex trends. While our global average CPC for March 2020 is down 18% YoY, global average CPM has remained relatively stable, falling by just 2% YoY.
The majority of our Search impressions have been delivered among 18-24 year-olds, and we have seen click volume increase by an incredible 49%, showing the impact of a locked-in audience. As a result, our average CTR for this demographic has risen by 54% in 2020.
Interestingly, our data for Search shows a substantial increase in midday clicks and impressions. These metrics were far more evenly distributed throughout 2019, so this insight is particularly compelling. Students are no longer in classrooms or lecturer halls during the conventional 9 to 5, they're at home, and so their scrolling habits have changed. It may be worth considering how you can pace your ads throughout the day to reflect this.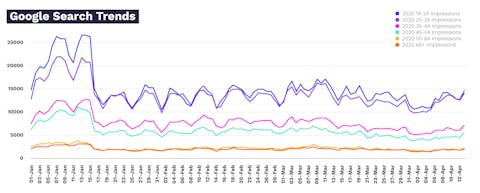 If you would like to find out more how COVID-19 is impacting online activity and how to respond best to these changes, get in touch.