5 stat-driven tips to optimise landing page conversion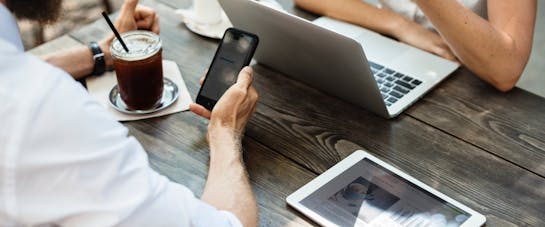 We love landing pages: campaign specific destination pages that exist solely to generate leads and convert customers. A well designed landing page gives marketers more control over the actions of their audience, by providing a strong focus and specific call to action.
There are certain things you can do to improve the performance of your landing pages for optimal conversion…
Long landing pages vs. above the fold
While it's commonly considered the best practice to put your lead-gen form or call-to-action 'above the fold' (the content that sits at the top of a web page before a user needs to scroll), some studies have shown that long landing pages can generate up to 220% more leads.
So which way to go? Well, it depends on your content (don't make copy for the sake of it), your desired CTA (does the user need lots of accompanying information?) and at which stage in the conversion funnel your campaign is. It can also purely depend on your audience demographic, your brand tone of voice, your industry – so just test what works best for you.
A to B of testing
According to Econsultancy, A/B testing is one of the most used methods for improving conversion rates. However, only 52% of companies perform split tests on their landing pages, and only 44% of companies use split testing software. No wonder, then, that 82% of marketers say knowing how to test effectively is a challenge. Without the use of proper testing software (like Akero's A/B testing functionality), optimising for conversion can be an incredibly difficult task.
Testing even the tiniest of elements can have a huge impact on conversion rates. Different use of colours, images, and CTAs could make all the difference between failure and success; Obama's 2008 presidential campaign split test various word combinations on the site's CTA, and the winning variation resulted in a 40.6% increase in email sign ups – which meant 2.8 million email subscribers, 288,000 volunteers, and $60million in donations.
Quickly does it…
A one-second delay in your landing page speed can result in a 7% reduction in conversions. Take the time to optimise your images before uploading them; use photo editing software to compress and crop pictures to the right size. Akero requires image uploads to be under 2MB to ensure your page loads as quickly as possible.
Speed is everything, always optimise your images and try to serve the right sizes depending on the device; you don't want an image that's desktop size being downloaded on to a mobile (luckily, the new Akero Drag & Drop Editor will do this for you). Also be cautious with fonts – will the user really notice the difference between PT Serif and Georgia? By picking the latter you will be saving valuable KBs
Carefully consider your form fields
If you're creating a lead generation landing page, you'll want to include a form to capture customer data – but the form itself can make or break your conversion rates. Less is more when it comes to form fields; Imagescape found a 160% increase in submissions when they decreased their form fields from 11 to four, so keep your forms as concise as possible to encourage completions. The first fields to ditch? Age and phone number – asking for these personal details reduce conversion rate by 3% and 5% respectively, according to Quicksprout.
If you really need more than just four form fields, use second part forms to hide the additional questions behind the initial submission. This will also help you to identify which prospects are more engaged.
First impressions are everything…
Pretty design can't save you if your copy sucks, BUT, with just eight seconds to capture someone's attention, it can make the difference between someone sticking around or abandonment. Colours, images and font styles can all have an impact on bounce rate, but also think about the page layout. Clear and compelling headers, bullet points and sub headed sections make it easy for the reader to get the gist of that carefully crafted copy at a glance, and encourage them to explore further.
My top tip focuses on the most basic but often forgotten element of design – hierarchy of information. First and foremost, make sure your audience knows what action you want them to take. Important information and call-to-actions should be prominent and clearly defined. Use lists and bullet points and make sure your enquiry form on the page is visible, placing it above the fold so that your audience doesn't have to scroll through mountains of information to find it.
Akero's brand new Drag & Drop Editor will make building beautiful landing pages easier than ever.