Don't ditch your Clearing URLs, Google recommends recycling
Traditional marketing strategy, and SEO wisdom in particular, tells us we need to create unique landing pages for each campaign, with URLs to match. So year on year, you may be tempted to change your Clearing URLs to improve your SERP and the reach of your student audience. 
As marketers, we want to be able to direct our prospects to the right page, whether that's the latest Open Day in the calendar, course information, or university news. But for Clearing, Google has suggested that it could be more beneficial to maintain a permanent URL that doesn't change year on year. 
A relevant URL is key, and the semantics should be appropriate and meaningful to Clearing. Here's why:
The longer a URL is live, the longer it has to build up link equity. This is the SEO value of a link, which increases with factors such as internal backlinks, links from other websites and landing pages. As marketers, we know that backlinks can drive large amounts of traffic to a site, and are vital for organic traffic. The longer a URL is live, the more it can be linked from external and internal sites, increasing its value and making your page more likely to be found. 
In contrast, specific URLs that change every year, such as clearing-2020, do not have the same chance of building up link equity as the permanent URL. Google bots are more likely to recognise the evergreen URL and show it to prospective students than URLs that change with the seasons, which can ultimately be lost. 
So, how can you make sure your URL gets seen without changing the slug every year? 
Easy. Get Google to re-crawl the landing page so the content is always up-to-date. This refresh highlights to Google that your page is current, ensuring that your backlinks (internal and external) are maintained and the link equity of the URL isn't compromised. 
What else can you do to improve your landing page traffic?
According to Google, there are a couple of steps you can take to further improve the traffic your site gains in relation to your URL. 
Publish your URL early so that the Googlebot has time to index the page and start building up the URL link equity with links from other sites. Students will be searching for information on Clearing before the date, so by having the URL live, students will be more likely to find your site. 
Build internal links to your landing page in question from your own website. In particular, the URL should be on the homepage of your website, and other high-authority landing pages, creating a web of authority within your site. The more internal links directed to this landing page, the more likely Google will evaluate this page as an important URL, and it is likely to rank higher on SERP.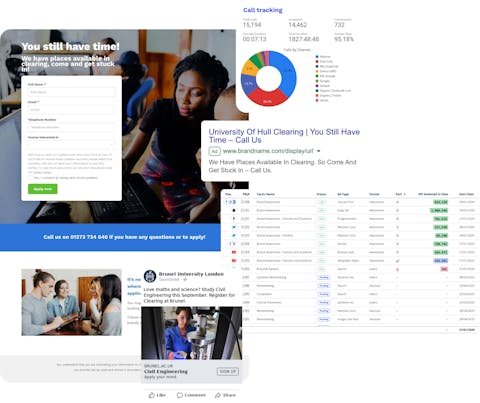 3. Not only do your prospective students like images and aesthetically-pleasing sites, but so does Google. By including HD images that reflect Clearing, Google will compute the relevance of the search better and make sure your Clearing site shows up for prospective students. Google also recommends eliminating the whitespace around the borders of your images for greater traffic. 
You can stay up-to-date with the latest online news and best practices on the Akero blog, where we also cover the likes of landing page optimisation, how to A/B test and what nudge theory is all about. Join us for the geek guides here.