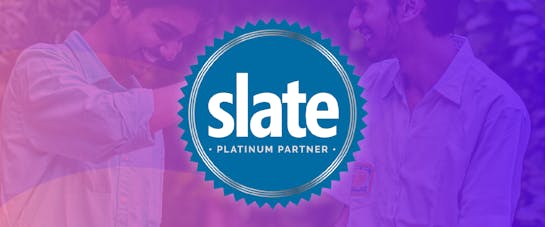 Akero becomes a Platinum member of the Slate Preferred Partner Program
We are proud to announce that we're now a Platinum member of the Slate Preferred Partner Program. As a Silver Partner for the last two years, we've already been able to leverage some of the great tools and resources Slate provides clients. However, as a Platinum Partner, our collaboration with Slate has evolved, and now enables Akero users and Net Natives' partners to better use both systems seamlessly to attribute true ROI against marketing and optimize their enrollment performance. Ultimately, clients will spend less on wasted advertising, be able to track the entire marketing funnel, and connect with more students. 
Slate's Platinum Preferred Partners is an exclusive network of just 11 organizations that share a commitment to support transformational effects on the world of higher education.
What this partnership unlocks for our partners:
With a click, our partners will be able to access billions of data points to forecast digital advertising outcomes and activate global campaigns. Akero works across all major search engines and social media platforms, as well as hundreds of thousands of brand-safe student websites and apps. All of which can then be tracked and fed seamlessly into existing Slate CRM. 
We'll also be working together to provide exclusive training and resources for our clients to ensure they're getting the very best out of both platforms, helping our partners tailor their applications for a variety of institution-specific needs. 
Partner with us using Slate, and you will be able to:
Use a streamlined Source Format for Akero that can be added to your Slate Instance
Quickly set up your Slate account to receive lead information from all of your advertising tactics with minimal configuration
Benefit from pre-configured file layouts for file imports and exports
Take comfort in our ability to carry out even more advanced testing prior to integrations and product releases to ensure seamless transitions
See for yourself how Net Natives and Akero work with Slate. Book a demo today!
About Slate
Designed and developed exclusively for higher education, Slate by Technolutions is the only solution that can handle the breadth and depth of modern admissions and advancement. Encompassing CRM, outreach, travel management, online applications, and online reading, Slate is trusted by more than 1,000 colleges and universities.
Slate Preferred Partners are listed in a directory available within all Slate databases. Institutions looking for supplemental Slate support and integration services can use the directory as a resource, with confidence that each partner has been vetted by Technolutions and approved for participation.