Who's at risk? How to retain students with simple strategies that work
From parents to policy makers, understanding how COVID-19 will impact graduation rates and loss of tuition revenue could be just as, if not more, important than investing in just getting applications in the first place.
Our Student Hut Panel found that one in ten students are already considering dropping out of university, and more than one in ten are considering transferring to a different university or course.
So what are you doing to make sure your students stay? And are your technology systems aligned, so that you have a total view on your students so that you are able to identify those at risk, and where key intervention points may be?
Identifying at risk students
How well are you able to segment students? Using the information you've already collected for each student through the application process, can you see if they are first generation university students? Their household income? Indication of whether or not they need to work while they are pursuing their studies? And how does this information marry with what you are seeing now they are on campus. Are they skipping key sessions? 
Having this information is essential in identifying students who may be more at risk than others, for you to create personalised, timely communications to help nurture and support them through their own challenges. Whether they be financial, health, or living away from home, the better you can understand your student and their individual needs, the quicker you'll be able to understand who is at risk. All very simply done on Akero.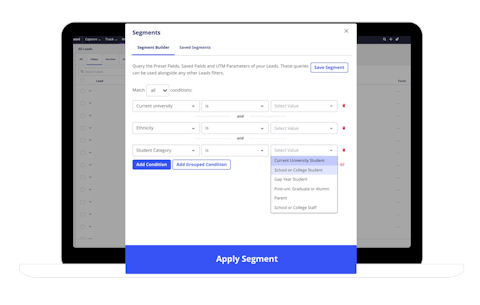 From here, you'll gain the ability to track every touchpoint your students have - or is missing - with a centralised true view of all their engagements. Helping you visualise that picture of how secure they are as a student at your institution, and where there's room for improvement (and nurture). 
More often than not, listening and keeping channels of communication open will help put out the flames before they become fire fighting comms. And you can give yourself a head-start, by subscribing to free services such as this one, or even up-grade to full subscriptions to get full, regular insights reports and the ability to survey your own student audience. 
Early intervention 
In success terms, laying out the metrics by which a service is measured will enable systems to identify at risk students early. What is our response time? How many students are reaching out? How effective are we at getting back to each individual? Is this something we could automate? 
A simple automated workflow to check in on students episodically and flagging queries in a timely organised fashion will let you identify potential issues before they become problems. And that will be more important than ever before in a post-Covid 19 world, where digital marketing and virtual experiences replace physical ones. 
Student-centric culture 
This won't come as a shock but keeping communications student-centric is vital. 
I'm sure when you look back at your time at university, the friendships and experiences you had were a key part in shaping a lot of who you've become today. Leaving home for the first time to isolate in a dorm with the possible thought of not being able to get back for Christmas is difficult for most to fathom. 
So what are some common problems students are facing? Should you have an FAQ page? How are you keeping students engaged outside of study hours? Should you run a virtual concert? How do you prioritise and categorise the pipeline of questions and problems our students are facing and make sure they are being dealt with?
Alerts, notifications, kindly reminders, mobile emergency numbers. Brand communication across multiple customer touchpoints must be consistent and have the same customer experience, regardless of what point they reach out. You must be able to interact with all members of your community to continue building those relationships and establishing trust.
Sometimes the best strategies are the simplest. Ensuring you are there at the right place, at the right time giving them the support and guidance they need keeping them connected and engaged.
If you'd like to find out more about how we can get you started with strategy today, get in touch.