Understand your student audience with Akero - Introducing Student Pulse
As student marketing experts, we know the challenges of understanding students' evolving motivations, behaviours and attitudes. So, we started with one simple premise. What if we asked enough prospective and current students each month what matters most to them when making educational choices, and compared that to the reality of what they have experienced?
And then democratise that insight, by giving it free to you. Visualised on monthly dashboards in a way that's easy to understand, interrogate and most importantly, utilise to inform your marketing strategies.  
Developed from the 2020 Student Tracker project, we have taken the lessons learnt from 52 weeks' worth of data and the successes of arming our sector with tangible, actionable, free insight and have launched an exciting evolution in student data and insight. Student Pulse. 
Student Pulse is hosted on Akero and brought to you by the Student Hut community of 141,000 weekly student subscribers and panel members. Each year over 1 million users engage with Student Hut content created by our teams of student journalists and influencers and shared with our social following of 275,000 as well as the 10 million reach across our student influencers' networks.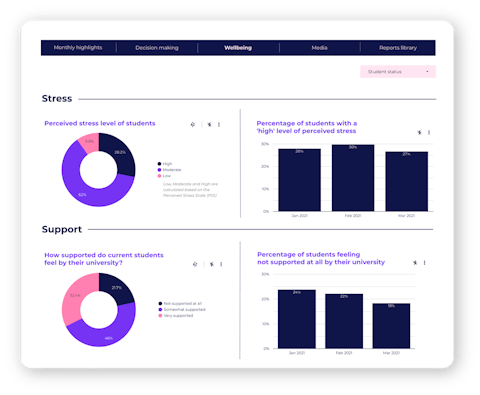 Student Pulse is currently accessible to all our Akero users, under the 'Analyse' tab. But if you would like to unlock Student Pulse to discover the insights for yourself, request a login here and our team will get your dashboard set up straight away..