Akero's Student Pulse Q3 results are in: how to boost student wellbeing with your tech stack
Student Pulse, the go-to dashboard for student insights, has revealed the latest thoughts and feelings of this elusive audience and it's time for us to highlight what marketers can learn from their students in 2021.
Firstly, it's not a surprise that the catalyst that has boosted students' wellbeing the most is an increase in socialisation. Over the pandemic, students struggled with online classes and social restrictions. But now, with institutions opening up about the possibility of Freshers' Week events and the return of face-to-face learning, students are more optimistic about their time at university.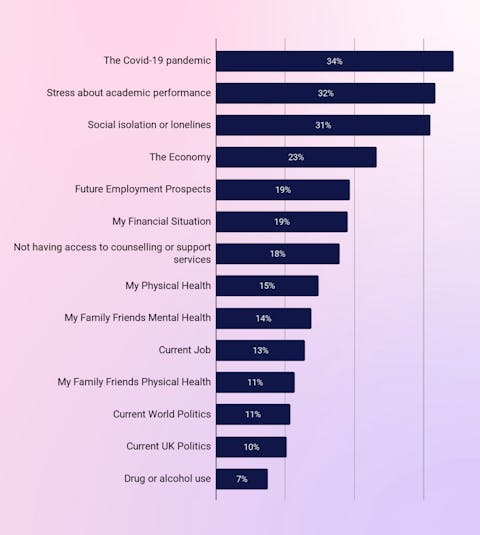 However, there appears to be a trade-off in terms of stressors. While the focus has been taken off remote classes and Zoom breakout rooms, the students' concerns have flipped 360 and they now mimic the results seen at the beginning of the pandemic in March 2020.
Their main stressor in Q3 was the Covid-19 pandemic (34%). This is followed closely by academic performance (32%) and loneliness (31%).
The Student Pulse dashboards in October 2021 revealed that 'finding it hard to make friends' was a barrier to university for almost one-third of aspiring undergraduate students at 32.1%. What's more, 34% of aspiring undergrads said that being away from their friends and family was a major contributing factor to whether they enrolled at university.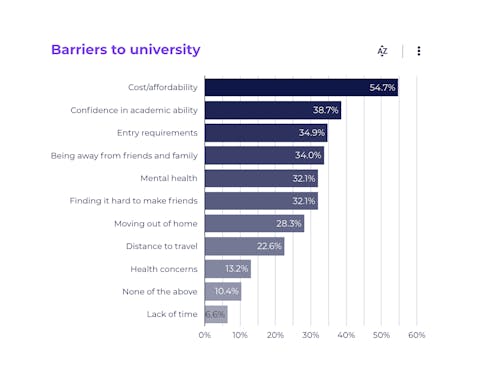 And speaking of wellbeing, how supported do students feel by their institution?
Six in 10  said they either feel somewhat supported or not supported at all and this sentiment has been a recurring theme throughout 2021. It's time to delve deep into why, and in which areas do they want/need the extra support?
Let's see what the students had to say: 
"Less hoops to jump through for mental health services. Feels like you're not ill enough to deserve help sometimes."
"Better communication with students and quicker replies to emails. I have many times not got a reply at all."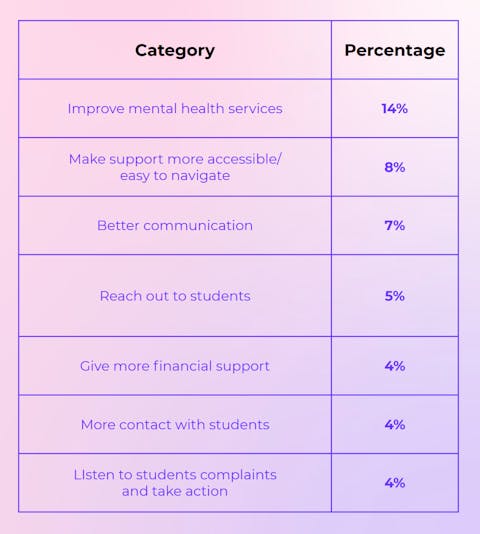 And now for our advice. Here's how to combine your tech with your data to boost your students' wellbeing on campus:
1. Ensure students have as much opportunity for face-to-face interactions as possible
31% of students said social isolation or loneliness was having a severe negative impact on their mental health. At the same time, many students said seeing their friends and attending in-person classes were the highlights of their term. To help those who are struggling with social isolation, it is important that universities continue to increase the number of in-person teaching hours and opportunities for social interaction amongst their peers. Use social media and email nurture campaigns to remind students of upcoming events and social opportunities, as well as implementing the likes of Unibuddy (which fully integrates with Akero) to connect students with one another. 
2. Provide easy-to-access support for those struggling with academic performance
32% of students said stress about academic performance was having a severe negative impact on their mental health, and many students said the stress of their academic workload was the lowlight of their term. Be sure to provide accessible support for those students who are struggling academically to help mitigate this, as well as simple and straightforward landing pages which inform and reassure students that help is available. 
3. Automate your processes
To ensure you never miss another chance to communicate with your students; whether it be to support their mental wellbeing or to inform them about upcoming social events and academic support, do it with Akero. From automated SMS messages, to sleek email workflows, streamline your teams and your processes to give your students the best university experience and keep their well-being on the up.