Technology Predictions 2020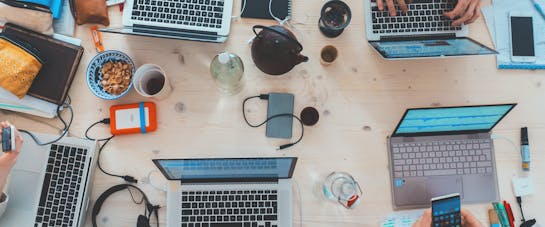 Looking back to my blog about what to expect in 2019, I feel like my predictions weren't too far off the mark.
My prediction of a large investment into data hubs and BI tools has been realised in two of the biggest BI platforms being acquired by two of the biggest data hubs this year – Looker and Tableau by Google and Salesforce respectively.
And an increased focus from universities into enquiry management tools to augment traditional CRM usage for student recruitment has been borne out by the sheer number of new institutions using Akero this year.
So for 2020, I've thought back over the conversations I've had with marketing and admissions teams this year in order to put together another list of predictions that I hopefully won't regret when we all come to think about 2021.
First-party data
A major issue that I've seen this year is when institutions don't have a clear understanding of, or visibility into, how their first-party data is being collected. This could be enquiry data that are mixed in with more important applicant data, data which hasn't had clear and unambiguous marketing consent, or out-of-date data where the prospects have made other decisions.
First-party data is one of the most valuable marketing resources that a university can have; these are the prospects that have willingly given their precious information in exchange for hearing more about courses, downloading a prospectus or attending an event. It can be used to nurture your enquiries through the funnel via email, SMS, events and online touchpoints such as virtual tours or webinars. But it's not all about lead generation – it is also vital for creating remarketing lists and lookalike audiences to reach a higher volume of potential students in your awareness campaigns.
Because this process of untangling existing bad data is costly and time-consuming, we've seen several institutions purchasing third party data from other providers. This is usually always a bad decision as that data may be out of date, not qualified for your courses, and as they haven't opted-in to hear from you, could detrimentally impact the open rate, clickthrough stats and reputation of your email comms.
So, get ahead of the curve in 2020 by tidying up your existing data now and putting in a strategy to capture that vital data in a GDPR-compliant fashion over the next recruitment cycle.
In-housing
Another change to look out for in 2020 is a move away from universities outsourcing the bulk of the marketing activities to large agencies and, instead, running more tactical campaigns through the increasingly powerful marketing technology within easy reach.
When you think about it, who knows the institution better than you, the teams that live and breathe it every day of the year. When running your regular open day promotions, lead generation campaigns or January deadline pushes, it's often actually more time-consuming and expensive to brief in an agency rather than to run the campaigns yourself.
Of course, there are still areas of your marketing that need a dedicated education marketing agency. For example, large-scale research pieces to understand your audiences, creative brand strategy work to transform this understanding into content that resonates and expert planning to deliver it to the right person in the right place at the right time.
But for everything else, why not run it yourself? The only barrier to this is the knowledge and expertise on the advertising platforms that comes from years of experience in education marketing. If only someone (cough, cough) had built an AI platform to synthesise that understanding with billions of data points and real-time feeds from the platforms themselves…
Data scientists
My prediction last year missed out a vital element. While data hubs and BI tools have certainly been a key feature of this year, they aren't the only part of a coherent data strategy.
Imagine you've got all your advertising, marketing and CRM data flowing into a data warehouse. This is then output into beautiful-looking dashboards tailored for your teams. But what happens next? Who's looking at this data and telling you not just what's working, but what you could do differently to get even better results.
That's where the data scientist comes in.
Every institution should be looking at their data (in fact, not just their data, but their competitor's data and data from the wider world) in order to understand where the opportunities are to increase performance and cut through the noise of digital channels. And it's okay to knock on the door of a few data experts to help with just that. 
To find out more on how we gain meaningful insight from university data, tune in to our webinar with our own data scientist at the end of January.
And there are my three predictions for 2020. I will look forward to this time next year, to see how these fared.