The resurgence of desktop browsing
An intriguing byproduct of this lockdown has been how it has impacted our browsing behaviour, particularly our device preferences, which have shifted substantially. The ascent of mobile-first web consumption has been temporarily halted, as users flock back to their desktops in droves following the restrictions imposed on their movement.
It's hard to imagine that any of us would have predicted six months ago, right?
The shift towards desktop-based activity has been particularly notable on Facebook, with visits to the social platform from desktop browsers rising by 27% in the U.S alone. In comparison, mobile app usage on the platform is up just 1.1% for the same period.
In the UK, on the day lockdown was announced, mobile and desktop impressions for Google Search hit their smallest point of divergence this year. Desktop impressions increased by 34% compared with the previous day, whereas mobile impressions only increased by 3%, closing the gap between them to just 1,656. For comparative purposes, the previous day saw a difference of 4,458 impressions delivered between these devices.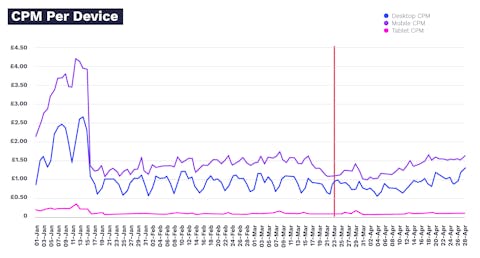 On YouTube, website visits from desktops have increased by 15.3%, with app usage dropping 4.5%.
This behaviour shift has been so marked that over the past month, Facebook has seen the number of people using their desktop browser for audio and video calling on Messenger more than double in recent weeks. Adapting to this online change, Facebook has repurposed its existing, renowned messenger app to be more practical during the lockdown, bringing it to desktop with unlimited, free group video calls.
With this statement of intent from Facebook, how will the preexisting conferencing platforms fare in a resurgent world of desktop browsing with such a big player announcing their arrival on the scene? 
In terms of advertising, in recent years, the onus has been on advertisers to ensure that their inventory is as mobile-optimal as possible, with desktop placements being further down the list of priorities. However, this data suggests that we would do well to ensure our ads capitalise on this shift, even if it's only for the short term. This could be achieved by including more lengthy headlines for your Facebook ads, which are less truncated on desktops, as well as making sure that your creative assets are making the most out of the additional real estate afforded to them on desktop screens.
Given the wealth of additional impressions that are currently available, we should ensure that we remain mindful of how these ads will be consumed.
Whatever you do, remember to be creative and make the most of the extra space and time spent scrolling, while ensuring you are sensitive and appropriate with your language. If you'd like to find out more about how you could make the most of this behaviour shift, get in touch.