The ultimate guide to recruiting adult learners in 2021
2020 has seen an unprecedented increase in adult learners and adults looking to retrain. In the UK (as well as many other countries) searches for terms such as online learning, e-learning and online open courses increased up to fourfold between end-March and early April 2020 as strict lockdown rules came into force, millions went on furlough and unemployment rates skyrocketed. 
And 2021 could be even bigger. With lockdowns continuing and the coming support from the government's Lifetime Skills Guarantee, there will now be twice the opportunity to recruit more adult learners to your college courses this January, and again in the Spring. 
We've been helping colleges recruit adult learners for over 10 years, and have helped thousands of students find the right course for them by supporting colleges with their advertising. We took a peek under the hood of our big data and caught up with our experts to put together our ultimate guide to recruiting adult learners in 2021, so you can smash your goals and get the year off to a fantastic start. 
Understand who are you targeting
This audience aren't the conventional 18-year-olds looking for what to do after school or college. They may have childcare responsibilities, they may be working full time, they may not have studied for many years. How can you acknowledge these challenges in your advertising? Sell the course benefits: Is it flexible? Will it work around their existing commitments? Is the cost feasible? Proximity will be important as home and family commitments are likely to keep these adult learners tethered.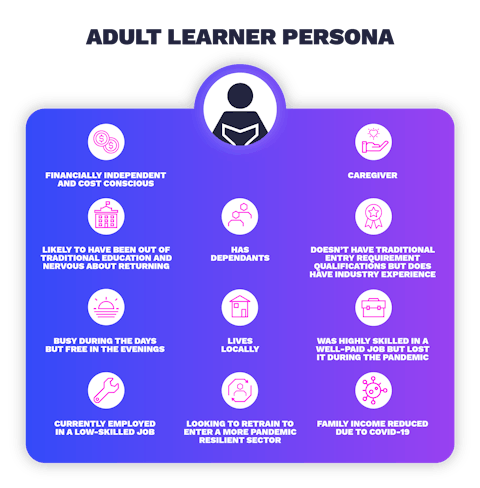 And we speak from experience 
Working with one South East college, we created a full advertising plan based around the locations of the courses and how far people would be willing to travel to attend them, as well as analysing the key times when campaigns would be most effective. The two main channels that we used to drive enquiries were Google Search, to capture those that were actively looking for adult courses in the area, and Facebook, to target the key audience demographics with relevant and engaging content. Opting for the right channels that work at the right stages of the funnel. 
Something else to note. When looking to recruit adult learners, you must also acknowledge that their influencers will be very different. Instead of targeting parents and teachers, look to career-focused messaging and highlight the endgame of where your course will take them, and why it is worth their time and investment. 
Recognise their priorities
These adult learners may not have a lot of time - or confidence - to trawl through website after website. So make sure you check how the user journey works once a potential adult learner gets on your site. Does it lean towards younger students looking to dive headfirst into the social scene of university or college, or is it easy to navigate to information that will benefit someone looking to retrain or try something new after all these years? Have you chosen images that reflect this audience and tell a story: a story of hope, opportunity and success?
Lead with the content that matters to them; overview, costs, start date, end date, admission process, outcomes. They want to quickly know if this course is right for them, so your customer journey needs to be as frictionless as possible.
Advertising to adult learners in a post-covid world
While this audience is not a new demographic in the HE space, this is a wildly unique year, so how you position your courses and institution to a group of people suddenly thrown into unemployment or retraining is going to be critical to achieving your recruitment targets (for what not to do, see the UK government ad with the ballerina). The copy, images and landing pages you choose are going to be crucial for nurturing these individuals through your pipeline and ensuring that you come across as caring and supportive, rather than tone deaf. 
Now more than ever, digital advertising is pivotal as traditional routes to recruitment may not currently be accessible; think community centres and libraries being closed, and not available for those prospectus and flyer drops. Invest your budget into digital advertising instead.
Use specialist software such as Akero and its AI to make a media plan that ensures you are using the right platforms for the right stage in the journey, as we already do for our hundreds of adult learning providers. Then, with your Akero forms in place, you can capture all the data you need for remarketing and future digital nurture (here's how to transform a deferred student into an enrolled one).  
HE and FE are vital pillars in the rebuilding and sustainability of our workforce post-Covid, and the government investment is there to back it. Now is your opportunity to make sure you're front-of-mind for those individuals rethinking their next steps, and to ensure you're meeting this coming demand. Our experts are happy to help you reach this audience and we have many guides and webinars that can help in the meantime too. Get in touch for more information.