Here's how we track Cost per Acquisition of enrolled students, and how you can, too
One of the biggest pain points we hear from student marketers and admissions staff is not knowing how to accurately track digital marketing spend and the return on investment of their student recruitment strategy. 
Understanding your true Cost per Acquisition (CPA) allows you to budget and plan strategically, invest in marketing and advertising that works, get even more leads and eventually lower your CPA further. Sounds amazing, right? But if it was that easy… everyone would be doing it.  
The truth is, there are various ways for you to track your media spend. From advertising to enrolment, and everything in between, you need to have the insight and expertise to know where to look for the right solution for your requirements. And that's the challenging part. 
Cue the fundamentals that you should have on your radar, so that you always have a full picture of what happens to each individual student from point A all the way to point Z, enabling you to find and track your true CPA.
Align your tech and create a single customer view 
So, first things first. In order to understand your CPA, you need to create a single customer view. What are the touchpoints that students are connecting with? At each stage, which landing pages, forms and information are they getting directed to? 
Understanding each individual prospect and student should be baked into the DNA of every marketing and admissions department. But it can prove challenging if you don't have the right systems in place. 
Online learning is often a complicated, nonlinear journey for prospective students, and understanding how your funnel works will let you know where to intervene. Aligning your technology systems allows you to track, understand and attribute ROI, customise and personalise each student's experience at every touchpoint. 
We recommend opting for an omnichannel method to enable you to house and view all of your data in one place. Akero, for example, offers a true single-customer view that tracks every touchpoint from the first click on an advert right through to enrolment. You can view all the relevant data in one place, making it easy to create a personalised journey to enrolment, tailored for every student. Akero also integrates seamlessly with whatever CRM you're already using, so that frictionless funnel is even more achievable. 
By understanding your students' journey, you'll then be able to identify where the bottlenecks or drop-offs exist, which are costing you valuable time, money and resources. Instead, you will be able to invest in critical nurturing strategies which will increase the overall ROI of your tactics and ultimately lower that CPA even further.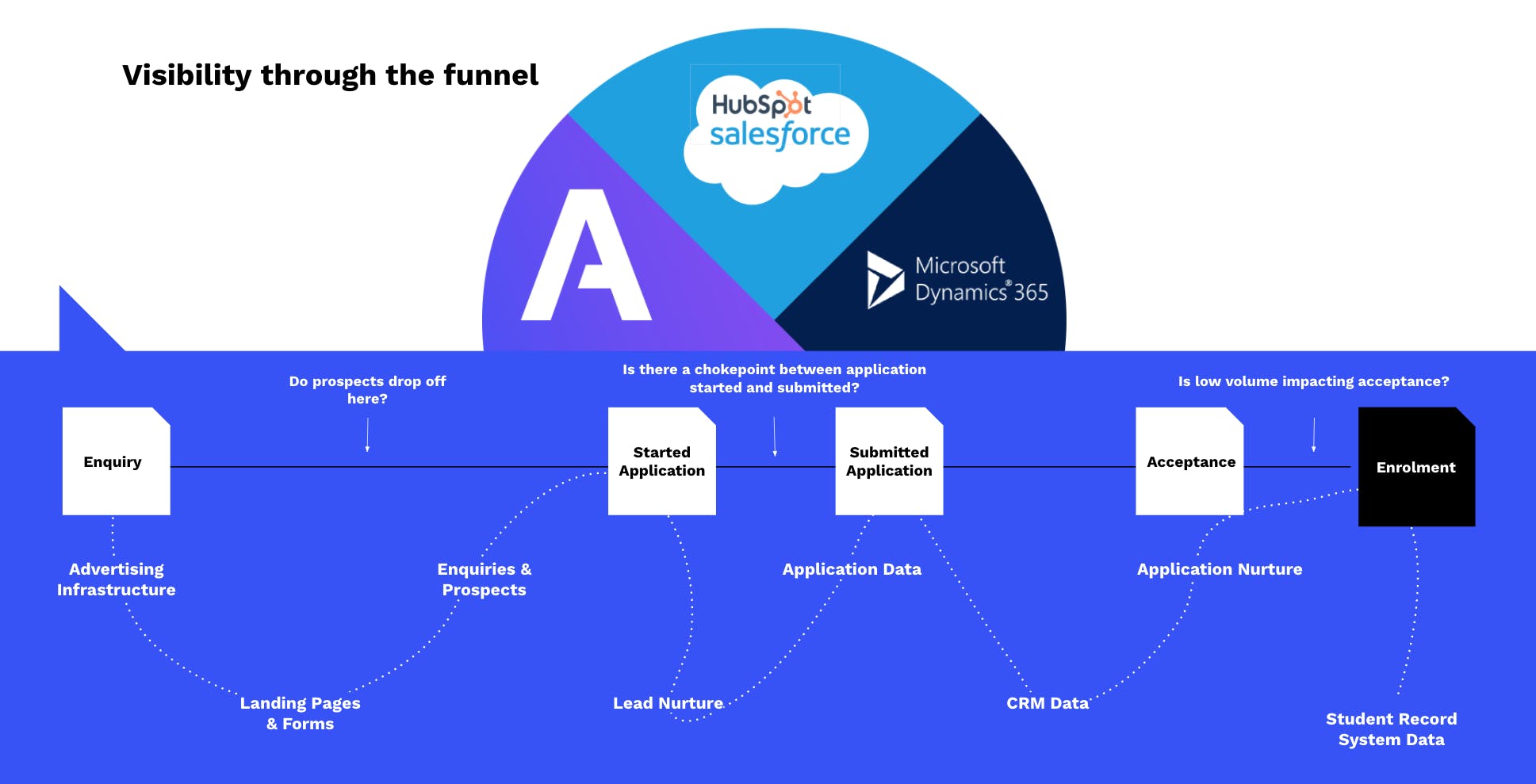 Once aligned, optimise
You've got that single-customer view and you know what your pain points are. Next, look at how to reduce your CPA through optimising your tech stack to resolve these problems.
Plugging your existing CRM into specialist software like Akero will boost your marketing capabilities, improving the effectiveness of your campaigns, enhancing your advertising performance and, in turn, lowering your CPA. Problems with form abandonment? Akero allows you to build multi-part forms, capturing that all-important data before the drop-out stage, and gives you useful information on when and where students are giving up. Unsure where to advertise to reach your recruitment goals? Akero recommends the best possible media selection according to your brief and budget, with guaranteed predicted performance outcomes from an award-winning AI, with all your leads going straight back into your own CRM. Which, you guessed it, helps you to reduce (and track) your CPA. 
The proof is in the pudding
But we'll put our money where our mouth is. We followed these exact recommendations when working with one US university looking to increase their overall student numbers year-on-year. In order to achieve this, they wanted to not just focus on raising awareness and reaching more potential students, but also:
Improving their conversion rates from page view to enquiry, and from enquiry to application. 
Visibility on the ROI of their recruitment processes.
Understanding their CPA from marketing activity.
And the result? To date, the university has tracked over 200 applications from their marketing activity and all applications can be linked back to the exact ad that generated the initial enquiry. Alongside that success, they also have complete visibility of their recruitment process alongside their advertising performance, all visualised in Akero, making it easy to analyse and report on their improved CPA, conversion rates and ROI.
We've only scratched the surface with these top-level tips on tracking Cost per Acquisition. If this has inspired you to understand and take control of tracking and reducing your CPA, get in touch with our experts today.