Track the things that matter and nurture those who need it: Are you making the most out of your data?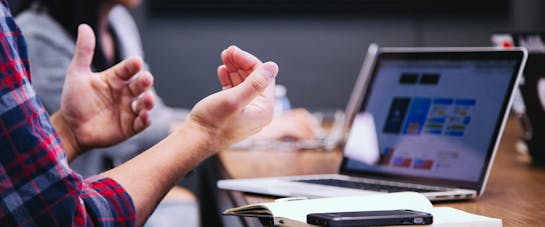 One of the biggest pain points we hear from student marketers and admissions staff is not knowing how to accurately track their digital marketing spend and get the most out of their student recruitment strategy. That is why our student marketing specialists have decided to host a webinar on Jan 23 to share some meaningful insights that can help you and your team make more informed decisions and pull the plug on tactics and activities that bring in minimal to no return on investment. The truth is, there are various ways for you to track your media spend, from advertising to enrollment and everything in between, but finding the right solution that fits your requirements is the challenging part. 
Reach, engage and enroll more students with data-driven campaigns
In the not so distant past, getting useful data to determine what was w and what wasn't working, required time-consuming research and quite probably overly complicated spreadsheets. Institutions own an incredible amount of data. Whether that is stored in your CRMs, marketing tech stack or even web analytics, you can utilize the data to your advantage to optimize your campaign performance. By understanding who your prospective students are and what they're looking for, you can provide them with a better experience and improve your enrollment rate. 
Bridging the gap between marketing and admissions
Data lives up to its full potential when it's shared and used across departments. Although every department at every college and university reams large amounts of data that could help colleagues meet their goals, much of the data often remains cloistered in departmental silos, limiting its ability to reach full potential. Based on a recent survey conducted by The Chronicle of Higher Education, 56% agreed that departmental silos occur when information, tools, resources, goals, priorities, and processes are not shared and aligned with other departments.  For example, admission staff usually get involved only when prospects have already started an application, rather than reaching out to them when they first become a qualified lead. 
If you're currently bogged down by a lack of communication between departments, and it's limiting your ability to enroll more students, then our advertising strategist can show you how adopting a full-funnel digital approach can attract more students and increase revenue. When the marketing and admissions department could collaborate more efficiently, more informed decisions could be made.
Track and nurture leads from initial media engagement through to enrollment
We can't always anticipate or understand why our audiences do the things they do. But one of the great things about incorporating a system that can automate tasks is that it can save you time and money. More importantly, it will allow you to maximize your student recruitment efforts – from initial media engagement through to enrollment and beyond – through the marketing funnel and give you a greater understanding of the barriers to overcome in order to convert them. 
According to recent research, lead nurturing can potentially save 80% of your direct mail budget and bring a 10% or greater increase in revenue over 6-9 months. Whether you're engaging your prospective students through email, social media or traditional ads, there's no guarantee that you won't hit a dead end. That's why it's beneficial to implement a lead nurturing strategy, as it allows you to maintain and grow the relationship between you and your prospective students. It's also a cost-effective way to enable you to increase your enrollment number in any given period. 
Adopting a technology that has a lead scoring system such as Akero can save you significant time as it can differentiate qualified leads from unqualified ones through a custom scoring system. This can make your life easier as the system will indicate the lead's qualification based on the requirements you set, so you could only reach out to the ones that show sufficient interest. 
But we've only scratched the surface. If this has inspired you, and you'd like to learn more, sign up and join us for a webinar that will go in-depth on tracking your media spend and maximizing your ROI. And if you can't make it live, we'll send you a recording after. Save your seat!