With thousands of students still unplaced in Clearing, there's opportunity with your name on it
Results Day is always a busy day and with the Clearing season expanding across the entirety of the summer season, the hard work isn't just contained by one day anymore either. So what can we learn from 2021's Clearing and take those lessons through to the coming recruitment cycle? 
Generation prep
Students have become savvier in the run-up to Results Day this year. Many have actively prepared for Clearing 2021 by visiting Clearing landing pages before 10 August and making a note of the relevant phone numbers. This placed them in a position to call up institutions as soon as they received their results, ready to make an informed decision.
One of our Akero clients noted that almost 50% of their calls came from students that had gone onto their clearing pages before Results Day. This emphasises the importance of call tracking, so you know who is calling and how to attribute it. It also highlights the importance of well made landing pages and forms, to capture engagement, and to be in a position to nurture students ahead of the big day. 
Less phone calls, more online
Another telling tale of the day was that by midday, one of our clients had already received 900 form submissions via their enquiry management system on Akero, a 500% increase from the year before! This might well suggest that students are choosing alternative methods to contact universities this year, moving away from calls and choosing online methods to secure places. Again, it's critical you have these optimal-conversion practices in place, using specialist software like Akero to build an infrastructure that gets results. 
Still skin left in the game 
The day after Results Day, UCAS reported over 100,000 students still left unplaced in Clearing. That's a lot of opportunity. This shows the necessity of having contingency budgets in place. For smaller institutions that still have places to fill, use that extra budget to keep pushing through the message that many of the top tier universities have closed their Clearing doors.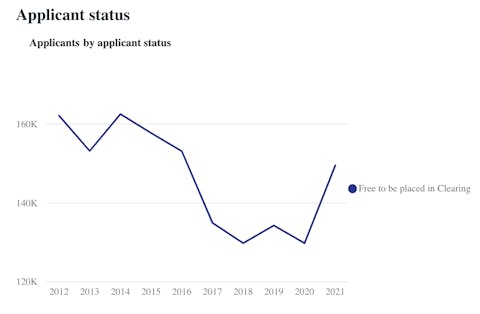 For those who still have contingency budget left over and hit Clearing target early on because of the number of students and high grades in play, don't sit on your hands, letting that budget go to waste and not have the access to it next year. Funnel it into brand research, unlocking how students feel about your institution and your market share in this competitive landscape. 
But remember, for students, their decisions are still yet to be made, they're prepared, they're informed, they're just waiting to make the right decision. Keep pushing forward with those nurture comms, and well-placed ad campaigns. 
Speak to one of our advertising experts who have helped hundreds of institutions through Clearing maximise these opportunities before the new term starts. Get in touch today.